The Shadbolt Centre for the Arts presents an evening with acclaimed master artist Robert Davidson on October 13th that will include a book signing and screening of the award-winning documentary about his life: Haida Modern—the Art and Activism of Robert Davidson.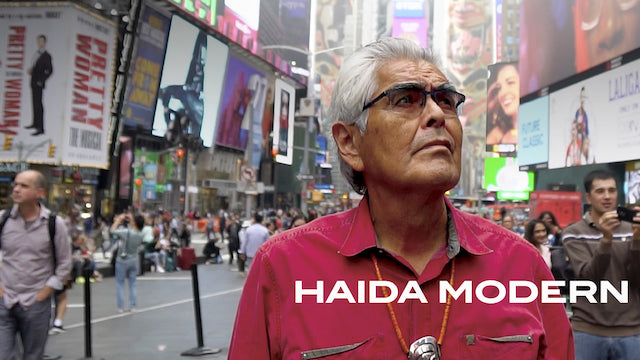 Robert Davidson at the Shadbolt Centre in Burnaby
Following the film screening there will be Q&A with Davidson, as well as a reception and signing session for his new book Echoes of the Supernatural—the Graphic Art of Robert Davidson. The book will be available for purchase on site.
The film, directed by Charles Wilkenson, explores the explosion of modern Indigenous art by following Davidson to his native Haida Gwaii as well as Alaska, Vancouver, San Francisco, New York and Austin. The documentary features Davidson at work in his studio bringing forward the knowledge of the old masters into the 21st century and shows how his work is bedded in a strong activism giving an eloquent voice to a threatened natural world.
Davidson is universally considered one of the world's greatest contemporary woodcarvers. He's received every national and regional award that can be bestowed upon a Canadian artist including the Order of Canada, the Royal Canadian Academy of Arts, the Order of British Columbia and the Audain Prize. Recently he was honoured with a retrospective exhibition of his paintings and limited edition prints at the Vancouver Art Gallery.
Follow Davidson on Instagram, as well as the Shadbolt Centre for the Arts.