A beloved East Vancouver tradition, the legendary Parade of Lost Souls, is happening Saturday, October 28th with a whimsical blend of art, music, and dance.
Parade of Lost Souls 2023
Date: Saturday, October 28, 2023
Time: 6:30pm to 10:00pm
Location: Britannia Library (1661 Napier St, Vancouver)
New this year, "choose-your-own-adventure" parades are happening at 7:30pm and 8:30pm, where you will have to choose between three bands going in three different directions.
The Parade of Little Souls for young people occurs just before 6:30pm.
The Lost Souls After Party will take place at The Wise Hall (1882 Adanac St) following the parades at 10:00pm, soaring into the witching hours and rejoicing in the magical blend of the night. This is a 19+ event.
Workshops
Sign up for workshops here for $10 suggested donation:
Do the Time Warp
Saturday, October 21, 2023 from 6:30pm to 8:30pm
Britannia Community Centre (1655 William St)
Learn the original, super fun, and very simple choreography to "The Time Warp" from The Rocky Horror Picture Show. For ages 15-75.
Thriller Flash Mob
Saturday, October 21, 2023 from 4:30pm to 6:30pm
Cafeteria – Britannia Community Centre (1661 Napier St)
Let's party like it's 1899…learn the original choreography of Michael Jackson's record setting break out hit Thriller. For ages 15-75.
Witches Dance Workshop
Sunday, October 22, 2023 from 1:00pm to 3:00pm (the last of four sessions)
Cafeteria – Britannia Community Centre (1661 Napier St)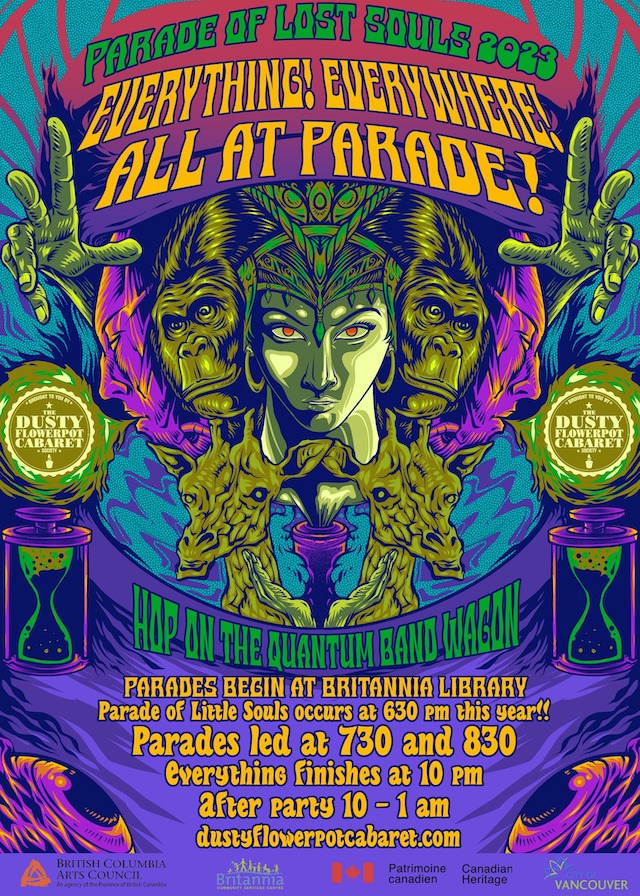 Happy Hour Drop-In Friday
Join The Dusty Flowerpot Cabaret on Friday October 20th at 2050 Scotia St (entrance at loading bay) where you can do a variety of things, including: make a costume; buy a costume; contribute to set decoration preparations; meet potential collaborators; perform karaoke on the custom LED dance floor; get a tour of the space; volunteer with the team; and more!
​Through this diverse array of workshops leading up to the grandeur of the Parade of Lost Souls, participants are not just attendees but become an integral part of the performance, immersing themselves in dance, music, and artistry.
Every soul is invited to help turn the community into a canvas of expressive art, echoing the unison of spirits and the enigmatic whispers of Halloween. Follow on Facebook for more information.
Browse more Vancouver Festivals this season »