Nominations for the 41st annual YWCA Women of Distinction Awards are open until December 1, 2023.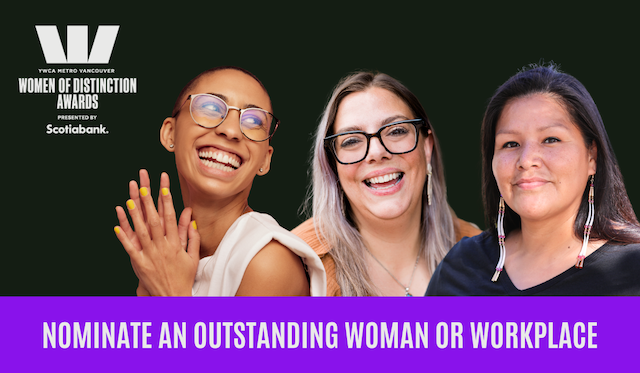 Nominations for the YWCA Women of Distinction Awards
The Women of Distinction Awards presented by Scotiabank will take place on May 13, 2024, and this is your opportunity to recognize an outstanding woman or organization by nominating them for an award.
The award categories include:
Arts, Culture & Design
Business & the Professions
Community Champion
Education, Training & Development
Entrepreneurship & Innovation
Environmental Sustainability
Health & Wellness
Non-Profit
Reconciliation in Action – this award honours two unique women; an Indigenous leader and an ally, working independently and committed to finding a new way forward.
Research, the Sciences & Technology
Young Woman of Distinction
Outstanding Workplace*
*Does your organization care about diversity and inclusion? Does it support and respond to the diverse needs of its employees? Does it proactively support the success and advancement of women? If you answered yes to all these questions, consider nominating your organization for the Outstanding Workplace award.

These awards honour all women, including trans women.
View the FAQ page for answers to frequently asked questions or watch this video on how to successfully submit a nomination. Nominations will close on Friday, December 1, 2023 at 5:00pm.
YWCA Women of Distinction Awards Recipients 2023
YWCA Metro Vancouver
YWCA Metro Vancouver is dedicated to achieving women's equality. Their mission is to touch lives help build bright futures for women and their families through advocacy and integrated services that foster economic independence, wellness and equal opportunities.
Miss604 is a proud sponsor of the YWCA Women of Distinction Awards, since 2010.