The Lumière Festival in Downtown Vancouver is celebrating its tenth year of illuminating dark nights with captivating artworks, projections, free performances, interactive workshops.
Lumière Festival Around Downtown Vancouver
Date: November 2 – 6, 2023
Admission: Free
This year, the free and accessible Lumière Festival will showcase a variety of artists and their works of art, including international artists from France, Poland and the United States. The interactive, light-based pieces will be displayed in locations across downtown Vancouver, the West End, Yaletown, and Gastown neighbourhoods, including:
Arthur Erickson Place (1075 W Georgia)

D.iIO.D.E. (Dielectric Intentional Optimistic Directional Energizer) (Super Luminous)
Jim Deva Plaza (Davie at Bute)

Popstar (Tybot Laboratories)Telefunkin Stage (Soluna Productions by Alejandro Samper)
1800 Davie Plaza / Morton Park

The Tunnel (Big Art by Paul Magnuson)
Life Is A Circus (Sandra Bérubé)
West End Community Centre (Denman at Haro)

Magic Crystal Ball Kaleidoscope (Foxlight Labs)
Robson and Cardero

(Un)comfortable Environments (Eos Lightmedia)
Vancouver Art Gallery (North and South Plazas)

Aqua Olimpia (Artur Grycuk)
Harmonia (Roy "thewiz" Trammell)
Ember Arts Fire Show (The Ember Arts Society)
Radiant Contours (Knowhere Design)
Lot 19 (855 West Hastings)

Club Cloud (Laryssa Gervan)
Iridescent Dreams (Shadow Puppet Pavilion)
Fairy Lantern Workshop (Imaginarium Events)
Lux Dragon (Nickie Lewis)
Tubspace (Kick Off The Truck Collective)
Bentall Centre (505 Burrard)

Synergies (Grégory Lasserre & Anaïs Met Den Ancxt)
Urban Light Contacts (Grégory Lasserre & Anaïs Met Den Ancxt)
The Door(S) (Big Art)
Helmcken Plaza (338 Helmcken)

Ethereal Gates (Eatart Foundation By Sam Carter)
Jellyfish Forest (Pxl Lab By Zac Bensing)
Submerged Sanctuary (The Aquarium) (Madeleine Chaffee, Kenji Eu, Gina Teichroew)
Waves in A Shell (Will Donaldson & Linfeng Zhou)
Bill Curtis Square (1198 Mainland)

This Velvet Light (Scott Keva James)
Opening Night
To kick off the festivities, an open-air spectacle at šxʷƛ̓ ənəq Xwtl'e7énḵ Square (Vancouver Art Gallery, North Plaza) is planned for the evening of Thursday, November 2nd and will feature dynamic performances from Ember Arts, Elektric Collective and more.
"The 10th anniversary of Lumière represents a decade of artistic expression, community engagement, and the joy of experiencing our city in a new light," says Deb Beaudreau, curator of the 10th annual festival. "I am honoured to be part of the journey this year, and can't wait for everyone to see the incredible works of art and performances we have in store this November."
Follow the festival on Facebook and Instagram for more info.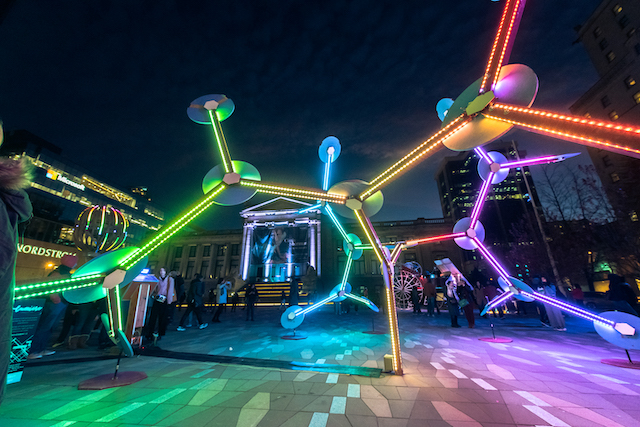 Browse more free events around Vancouver »