IndieFest is a musical gathering that will feature awe-inspiring opera, augmented reality, immersive theatre experiences and Indigenous storytelling through classical music, dance and more.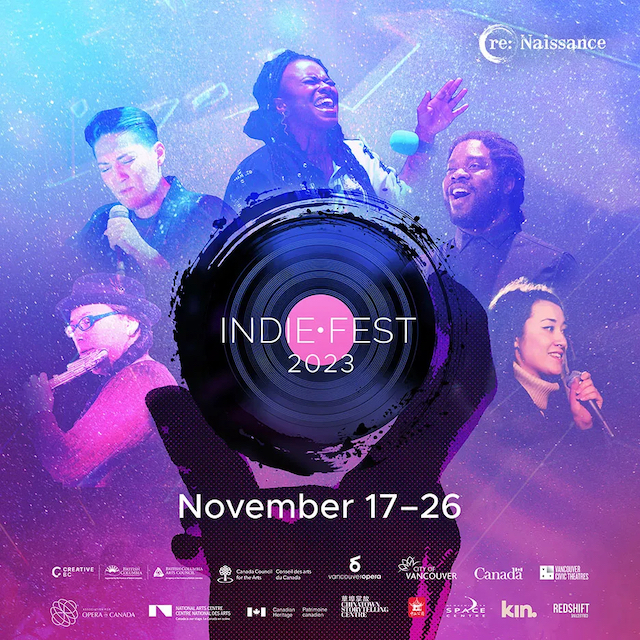 IndieFest Vancouver 2023
Produced by re: Naissance Opera, IndieFest is happening November 17-26, 2023 and is spread across five unique Vancouver venues.
When: November 17 to 26, 2023
Where: Various venues throughout Vancouver
Admission: Tickets for events are available for purchase online from $15-$35. Sanctuary & Storm Tickets are available for purchase on the Vancouver Opera website.
Now in its fourth year, the event series celebrates an emerging field in the performing arts sector. From new opera, to virtual reality, to Indigenous practice, to drag, the festival amplifies the imaginative forms of storytelling and diverse artists unique to the Pacific Northwest. IndieFest promises to be an artistic and cultural experience like no other.
This year's theme is Future Mythologies, highlights forgotten histories, and empowering BIPOC artists to bring new stories into the world.
Event Lineup
Sanctuary & Storm
November 17 to 19 | H.R. MacMillan Space Centre
The world premiere of the award-winning opera by composer Tawnie Olson and librettist Roberta Baker immerses audiences in a celestial confrontation between the past, present and future.
IndieArtist Cabaret
November 21 | Fox Cabaret
A showcase of the homegrown innovators of Vancouver, highlighting the local artists from the music, dance, theatre and performing arts sectors.
Prairie Dusk
November 22 | The Annex
The concert of multidisciplinary artist Jessica McMann blends music, storytelling, and stunning visuals to depict McMann's experience as an Indigenous and Two-Spirit person.
The Liminal
November 23 & 24 | Sun Yat Sen Garden
Curated by multidisciplinary artist Stephanie Wong, this immersive experience allows audiences to choose their own journey through interdisciplinary performances themed around transformative futures.
Ressurectio: Act I
November 24 | Lobe Studio
This experience created by Morgan-Paige showcases the enduring impact of the environment on identity, and the struggle to preserve ancestral heritage within colonial structures.
Future Mythologies
November 25 | The Annex
A celebration of new operas that are reimagining the future of storytelling. This lineup highlights Madeleine Thien's new opera, Chinatown, Omari Newton and Amy Lee Lavoie's hip hop opera Inferno, and re:Naissance Opera's XR opera Eurydice Fragments.
168 Magazine Launch
November 26 | Chinatown Storytelling Centre
The launch of re:Naissance and the Chinatown Storytelling's youth-led magazine '168'. Spearheaded by Bling Empire's Blake Abbie, this event spotlights Chinatown's vibrant present, its resilient history, and its aspirations for the future.
Stay up to date by following on Facebook.
Browse more Vancouver Festivals this season »