The 6th annual Girls and STEAM (science, technology, engineering, arts and design, and math), presented by STEMCELL Technologies, is taking place at Science World November 4th.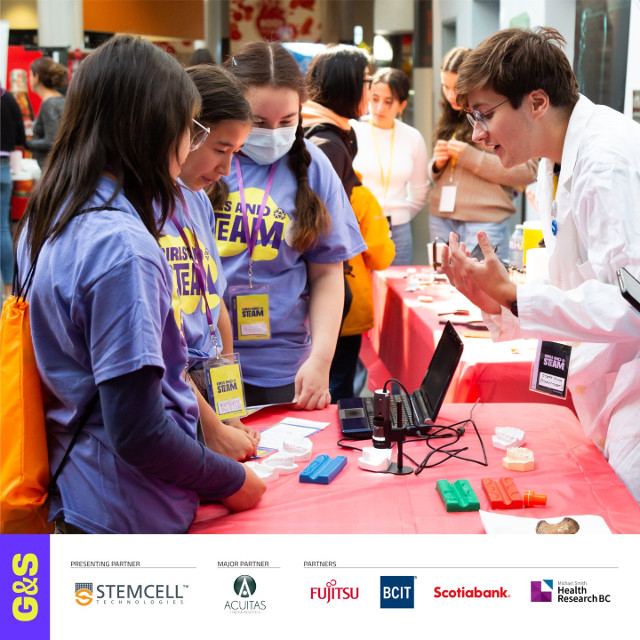 Girls and STEAM at Science World
Date: Saturday, November 4, 2023
Time: 7:45am to 4:00pm
Location: Science World (1455 Quebec Street, Vancouver)
Admission: Registration is open online for girls aged 12 to 14.

While the terms "women" and "girls" are used for this program, Science World invites attendees and mentors who identify as women, girls, trans, genderqueer, non-binary, two-spirit, and gender questioning.
300 young girls, aged 12-14, will take over the Science World dome in a day of hands-on activities, enriching workshops, inspiring mentorship sessions and a keynote presentation.
With a gender gap evident across many STEAM fields, Science World's Girls and STEAM program effectively dispels myths surrounding these careers, providing a welcoming environment for girls to engage in STEAM activities, boosting their confidence and interest. Stats show that among high school graduates, women are 30% less likely than men to enroll in a postsecondary STEM program shortly after graduation. The event sheds light on the local STEAM community and available resources for girls and women interested in pursuing a career in these fields.
This year's keynote presentation features Andini Makosinski, Filipina-Polish Canadian inventor best known for her invention of the Hollow Flashlight that runs off the heat of the human hand, and theeDrink, a coffee mug that harvests the excess heat of a hot drink and converts it into electricity to charge a phone. The inspiration for Andini's flashlight came from her friend in the Philippines, who had failed a grade in school because she had no light or electricity to study with at night.
Stay up to date with Girls and STEAM and Science World on Facebook and Twitter.