Step into a world of autumn enchantment during Fin-tastic Fall Days at the Vancouver Aquarium this October. Immerse yourself in an exclusive Octopus 4-D Movie Theatre Experience, and navigate your way through a kelp forest in the deep sea maze.

Fin-Tastic Fall Days
When: October 1 to 31, 2023
Where: Vancouver Aquarium 845 Avison Way, Vancouver
Admission: Tickets are available for purchase online. Advanced booking is recommended.
Dive beneath the surface to explore our planet's oceans and one of the most captivating creatures that dwells there with Octopus: Blue Planet, a 4-D experience. Discover how this eight-tentacled wonder masters physical and mental strengths to outwit and escape its underwater rivals including the pyjama shark and sally lightfoot crab. Wave after wave of excitement reveals extraordinary octopus behaviors and dynamic oceanic landscapes in this special effects experience inspired by the critically-acclaimed BBC series, Blue Planet II.
On land surrounded by festive fall decor, delight your taste buds with comforting fall favourites like sustainable seafood chowder and other seasonal treats like jumbo s'more cookies, or – for the brave at heart – roll up your sleeves and get hands-on with mysterious creatures in the Spooky Wet Lab.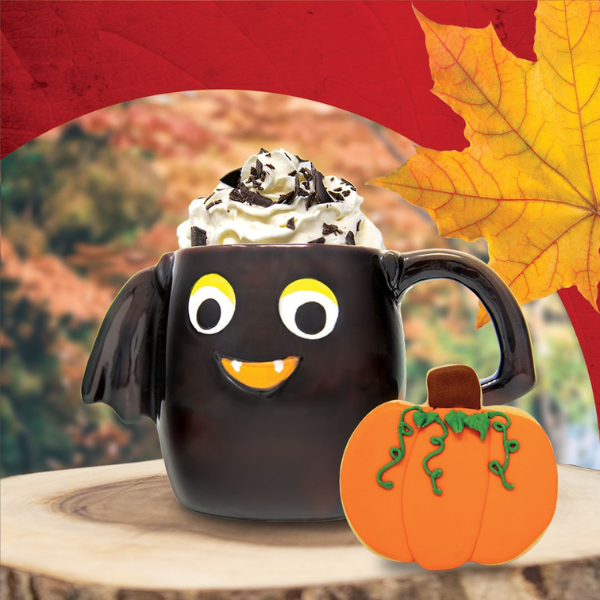 Sweet Treats and More
Enjoy a fang-tastic concoction of rich, velvety hot chocolate served in an adorably spooky take-home souvenir bat mug with a side of spellbinding seasonal cookies. Available while quantities last.
Visit the Courtyard Café to enjoy our other seasonal dishes included in this year's Noms Magazine Fall Food Festival. Savor the signature Sustainable Seafood Chowder Halibut Fish & Chips, and Roasted Turkey Breast Sandwich to earn passport points now until November 12th.