Canyon Frights are back at Capilano Suspension Bridge Park this season. Visitors are invited to take a thrilling journey through history where the spirits of the past come to life as they enjoy a Halloween gathering reminiscent of a Victorian 'Fall Fair'.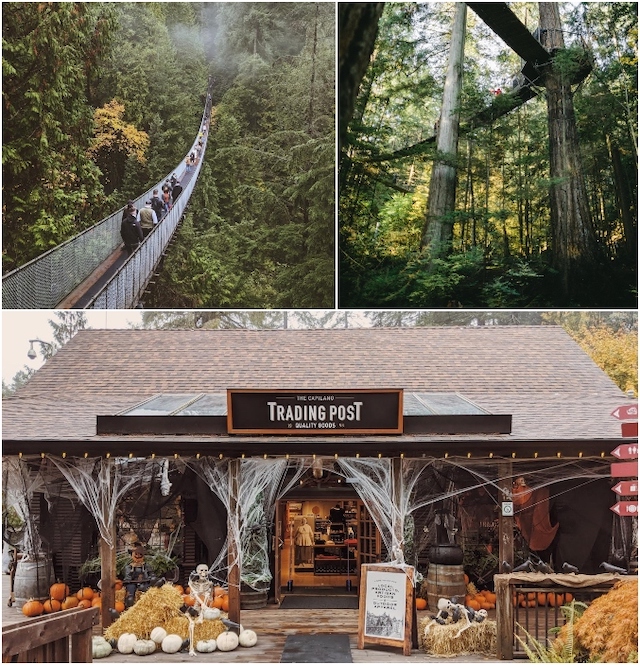 Halloween at Capilano Suspension Bridge Park
Open: Friday, October 13 until Tuesday, October 31, 2023
Where: Capilano Suspension Bridge Park (3735 Capilano Rd, North Vancouver)
Tickets: Must be purchased in advance online and are on sale now, with a limited quantity of tickets available. Visits are scheduled in 30-minute arrival increments. BC Annual Passholders are also required to reserve their time online prior to their visit.
The Park, illuminated for the occasion, sets the perfect atmosphere as the festivities take an unexpected twist revealing a turn of  events in the rainforest. Visitors can wear their best, family-friendly costumes and take part in Halloween-themed games and surprises.
The owls of Raptors Ridge will be around from 10:00am to 5:30pm on weekends during the festivities and you can check out all the park attractions like Treetops Adventure, the Living Forest, Cliffwalk, and the Story Centre. Shop the Trading Post, and grab something to eat at the Cliff House Restaurant or Loggers' Grill.
Capilano Suspension Bridge Park will be expanding their support of the BC Professional Fire Fighters' Burn Fund this year with partial proceeds from Canyon Frights admissions being donated to fire and burn education in schools throughout British Columbia.
Win Passes to Canyon Frights
I have a family 4-pack of tickets to give away to Canyon Frights! Here's how you can enter to win:
Win Tickets to Canyon Fright – Halloween at Capilano Suspension Bridge Park
Coming Soon…
Canyon Lights will transform Capilano Suspension Bridge Park into an unforgettable family-friendly holiday light experience from November 17, 2023 to January 21, 2024. Cross the world-famous bridge, lit end-to-end with a multi-colour display above the illuminated Capilano River and canyon. Journey into a magical glowing rainforest and walk high above the forest floor on the glittering Treetops Adventure. Wind your way along the twinkling cliffside pathway of Cliffwalk. Capture Instagram-worthy moments, sip a decadent hot chocolate while you listen to live holiday tunes and explore the fun festive activities that await you. Tickets for Canyon Lights will be available starting November 3rd.