This year's Vancouver Outsider Arts Festival will be bigger than ever, with new collaborations and a longer run that sees the festival expand to five days. Canada's first and only outsider arts festival promotes equity while amplifying artists and performers who live and work outside of the mainstream.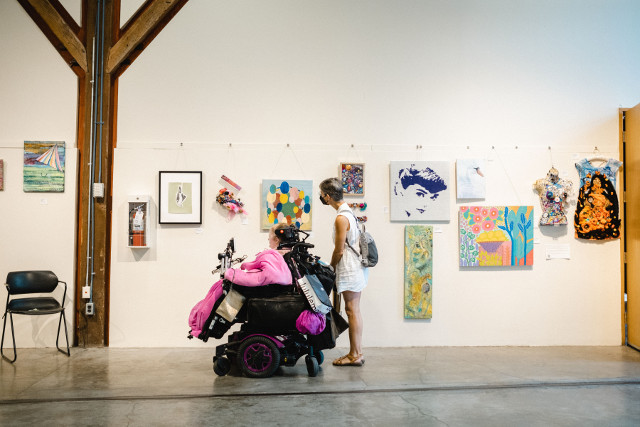 Vancouver Outsider Arts Festival 2023
When: October 12 – 17, 2023 from 12:00pm – 8:00pm
Where: The Roundhouse Community Arts & Recreation Centre 181 Roundhouse Mews, Vancouver
Admission: Free exhibitions, performances, and workshops. RSVP online.
VOAF 2023 will feature 56 artists from across Metro Vancouver's diverse art scenes, including 40 visual artists, 13 performing artists, and three art groups. The festival's visual art exhibition and performances will be complemented by a series of new workshops.
Visitors will be able to learn from artisan Chantal Cardinal about the craft of handmade felt objects and from Vancouver Ikebana Association member Cecily Chang about the art of Japanese flower arranging. Additional workshops will be offered through a new partnership with BC Culture Days: independent dance artist and choreographer Fiana Kawane will teach Kathak Movement, or South Asian classical dance, and multimedia artist Bethany Pardoe will facilitate a collaborative character design session.
A collaboration between VOAF and OAF from Helsinki, Finland, will culminate in a short film presentation at the Roundhouse Community Centre on October 16. OAF's inclusive artistic team has curated a collection of short films featuring Finnish outsider artists from the suburbs of Helsinki and the rural area of Karelia: Mika Ruohola, Kati Kallio, Anne Kalliola, and Miska Tuononen. An online meet and greet with the artists will be hosted following the screening, and will be accessible online at OAF Online Stage.
Following the festival's close, the VOAF exhibition will travel to the Port Moody Arts Centre from January 11 – March 4, 2024. 
VOAF 2023 Participating Visual Artists


Alini Garcia, Andrea Grey, Andrew Woods, Ania Salmina, Barbara-Lynn Pollard, Ben Roback, Brandy Mars, Cathy Watters, Colin Mitchell, Courtney Lee, Daniel Poggenpoel, Erin Audley, Federico Airaudo, Glenn Hesse, Hazel Yuhang Zhang, Jaclyn Lord-Purcell, Jasper Berehulke, Justine Clark, Kaela Ho, Katalina Guerrero, Komal Saxena, Lee Abbott, Leigh Press, LittleBenefit, Madison Gill, Mahdieh Pourghannad, Marianne Powley, Marko Hirny, Mason Meghji, Max Mueller-Langer, Nickole Lewis, Nicole Parekh, Rowan Wright, Sandra Yuen, Shamsah Mohamed, Sheila Letwiniuk, Tim Varro, Tom Moody, Trevor Buddin, Vee CR
VOAF 2023 Participating Performing Artists


Argel Monte de Ramos, Cèsar Contreras, Co-Creating Love, Eva Cho, Fairything, Farrah Vading, Hampton G, Jerry LaFaery & Leef Evans, Joe Joe Johnson, Kandy Roar, Mako Fujimoto, Niki Kennedy, Rocky & the Gems
VOAF 2023 Participating Art Groups

ART & Justice, The Art Studios, Gathering Place Community Centre
Follow Community Arts Vancouver on Facebook for more information.
Browse more Vancouver Festivals this season »