Step Up for LGH is a Walk-a-Thon for a cause happening along West Vancouver's scenic waterfront on Sunday, October 15, 2023. The community fundraiser combines fitness and philanthropy in support of Lions Gate Hospital.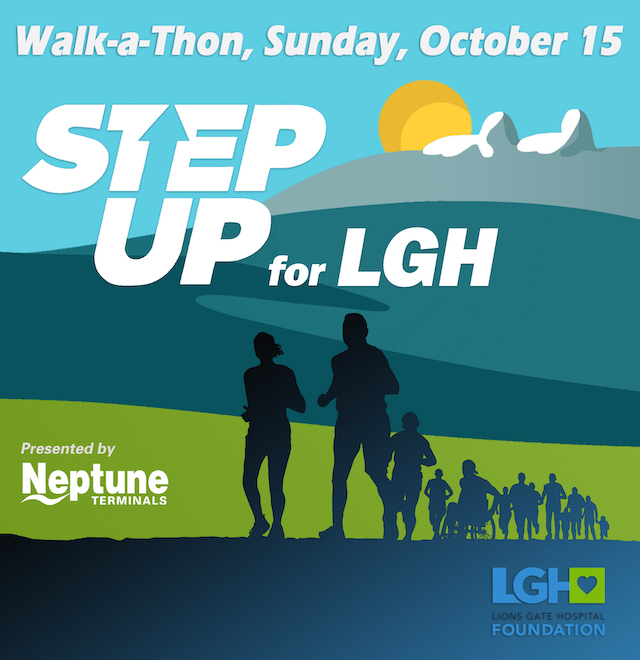 Step Up for LGH
When: Sunday, October 15, 2023 from 10:00am to 1:00pm.

The Walk starts at 11:00am.

Where: Millennium Park, West Vancouver Seawall (15th Street & Bellevue Avenue)
Registration: Sign up today. The $25 fee includes a T-shirt plus free giveaways and the chance to win prizes.
Participants raise funds by encouraging friends and family to make a donation to their fundraising page leading up to the Walk-a-Thon on October 15th. All ages and fitness levels are welcome and exciting prizes await the top teams and fundraisers.
On Sunday, October 15, participate in a 2K, 5K or 10K walk along the Seawall. The starting point is Millennium Park in the heart of Ambleside Village, West Vancouver. Registration starts at 10:00am, followed by the Walk-a-Thon at 11:00am.
Step Up for LGH includes:
Booths presented by community partners
Electric vehicles on display
Music
Giveaways & freebies along the route
About the Cause
Lions Gate Hospital (LGH) is the Hospital for Here, providing a full range of general and many specialized acute care services to communities on the North Shore and beyond. LGH Foundation is the charity which raises funds to invest in medical equipment and technology, improve care, build new facilities and support medical teams including emergency, maternity, oncology, palliative and neurosurgery. Follow on Facebook, Instagram and X (Twitter) for their latest news and community initiatives.
Miss604 is a proud sponsor of Step Up for LGH in 2023
Read more non-profit news from Miss604 »