Celebrate the arrival of fall by following the seasonal farm trail to Agassiz, where you can harvest your own pumpkins at the Harrison Pumpkin Festival — home of the "all-you-can-carry" pumpkin patch.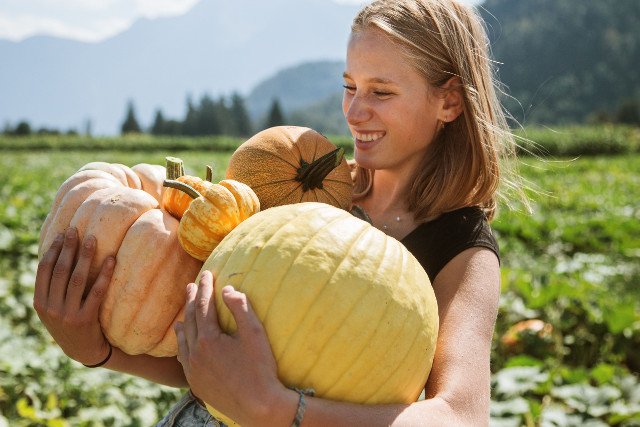 Harrison Pumpkin Festival
When: Open September 29 – October 29 (or while supplies last)

Thursday & Friday 11:00am to 5:00pm; Saturday & Sunday 10:00am to 5:00pm
Monday October 9 (Thanksgiving) from 10:00am to 3:00pm

Where: Harrison Pumpkin Festival 5039 Lougheed Highway, Agassiz
Admission: $15 per person (ages 2 and under free) for all-you-can-carry pumpkins. Tickets available for purchase online.
For the past 17 years, one family has been bringing flower fests to the valley and now operating under the umbrella of Onos Farms they're excited to present this new autumn option.
There's more than 22 different types of pumpkins for you to find at the Harrison Pumpkin Festival. Add texture and even more colour to your fall photos and carving activities. From cute half-pounders to classic carvers from 10 to 100 pounds, you'll want to fill your trunk with many decorative options.
The farm also has glorious flower displays of dahlias, zinnias and cosmos that should be in luxuriant bloom all season (weather permitting). The Farm Store will be full of cut flowers, sunflower and pumpkin seeds, plus tulip and daffodil bulbs (while supplies last). A food truck will be on site each day of the festival to feed your pumpkin-picking crew.
The entry price gets you "all-you-can-carry" pumpkins, but you must be able to literally carry them in your arms—that is, without the use of a trolley, cart or other device. Pumpkins will also be available in the Farm Store for those who don't relish the heavy lifting.
The fest is hosting a photo contest on Instagram where you can show off creative ways to heft as many of those all-you-can-carry pumpkins as possible. To enter, simply tag @harrisonsunflowerfest on Instagram and use the hashtag #OnosFarmsPumpkinContest in your post.

To add to the fun, and to create some friendly competition, there will be a pumpkin-weighing station near the store. Weigh and measure your picks and compete to see who snags the heaviest pumpkin load in any given category. Keep an eye on your standing in the stats online, where daily updates will be made to the leaderboard.