For two decades Fright Nights at Playland has delighted and terrified and this season the highly anticipated Halloween event returns with haunted houses, hair-raising rides, creepy decor, monsters and live performances.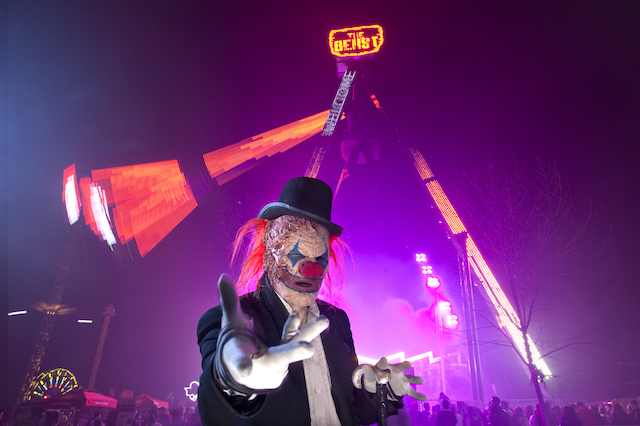 Fright Nights at Playland Celebrates Its 20th Anniversary
Warning: Not recommended for ages 12 and under, seniors 65+, people with sensitivity to strobe lighting or fog machines, people with high blood pressure, heart conditions, or anyone pregnant. Absolutely no guest costumes or guest costume face make up allowed.
When: Select Nights from October 6 – 31, 2023
Where: Playland Amusement Park 2901 E Hasting St, Vancouver
Admission: Available for purchase online now. Purchase tickets for specific dates in advance as there is a cap on tickets sold per day. Event nights may sell out.

Early Access Pass: Includes expedited line for park entry (begining at 5:00pm on select nights) and early access to 3 houses (The Void, Doll Factory, and Darkness) for an additional $20 cost.
Fright Nights is celebrating its 20th anniversary with brand new scares. The Void is the scariest haunted house in Fright Nights history where monstrous beasts stalk thick forest of the Pacific Northwest. Within the lush and beautiful forest are the Howling Caves. It's coincidence, many will say, how frequently people go missing along the trails and near the caves…
Another highly anticipated haunted house is Carn-Evil. If you hate clowns, beware of this house because the clowns of Fright Nights are notorious. In this haunted house the clowns are humanoid creatures who live right under our feet in the sewers below where they multiply & grow when they encounter radioactive toxic waste. Don't miss out on these attrations and more.
Opening Scaremony
Witness the Fright Nights Opening Scaremony. Venom and Coco welcome Fright Nights guests as creepy cast members emerge from the fog in a completely unique immersive performance you don't dare miss! Nightly at 6:00pm at the entrance to the park.
Stay up to date with Playland and Fright Nights on Facebook and Instagram.