What better way to ring in autumn in the valley than with a Cranberry Bog Tour in Langley? Riverside Cranberry Farm is welcoming visitors for self-guided tours, harvest walks, plunges, and plenty of scenic photo opportunities.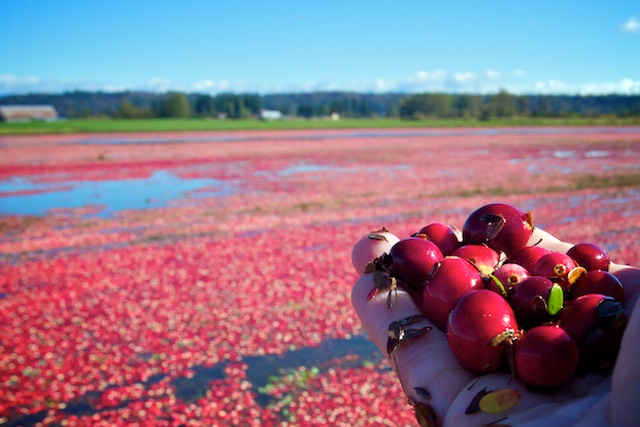 Cranberry Bog Tours 2023
When: Select dates from September 23 – October 9, 2023
Where: Riverside Cranberry Farm (36885 88 Ave, Langley)
Admission: Tickets can be purchased online from $7.72 to $40 (plus fees) for families. Add-on the Cranberry Plunge experience to your ticket for an additional cost.
This year's cranberry harvest is looking as stunning as ever at Riverside Cranberry Farm. Registered guests can take in the beautiful valley views with a Harvest Walk. Stroll the perimeter of the field while it's being actively harvested to see the harvesting machine working or to see the cranberries being pumped off the field. You can even put on a pair of farm waders for the Cranberry Plunge – an Instagram-worthy photo op.
Follow a self-guided audio tour around the farm using the QR Code system and your mobile phone. Stop and read the informational displays to learn about the interesting facts about cranberry farming.
Visit the farm store to purchase farm to table products and fresh baked goods and beverages. Be sure to stock up on farm-fresh cranberries for your autumn meals and gatherings.
Harvest Kick-Off Party
It all kicks-off with a season opening party on September 23rd with local beer, cranberry-inspired cocktails, seasonal treats and eats, prizes and more. Follow the Riverside Bog on Facebook for more information.
About The BOG Riverside Cranberry Farm
In 2010, Brian and Mandy Dewit, inspired by their family's longstanding farming heritage, embarked on their own journey in cranberry farming, establishing THE BOG Riverside Cranberry Farm. Nestled in the picturesque Glen Valley area, just outside Fort Langley, their farm boasts 35 acres of thriving cranberry fields. A decade has passed since the inception of their venture, and alongside their five children, the Dewit family remains deeply committed to cultivating top-tier fruit and fostering connections within the local community.
Related: Read about cranberries in BC