The Black Space Summit and Symposium invites members of the community including BIPOC, LGBTQ2IA, and Allies into intentionally curated spaces online and across the Greater Vancouver this weekend.
Through this event series you can engage in progressive dialogue that centres and celebrates the lived experiences of African Descent people on these lands and beyond.
Black Space Summit and Symposium
Produced by Afro Van Connect and Black Space Media INC, the Summit and Symposium takes place over four days with the intention of uniting artists, activists, professionals, and educators within the African Descent community for the purpose of promoting communities culture, growth, and wellbeing.
Each day there will be workshops, talks, and more. Admission is free or pay-what-you-may, and there will also be a donation box placed at the info table. All proceed received from The 2023 Black Space Summit and Symposium will go to supporting local artist and creatives within the African Descent community.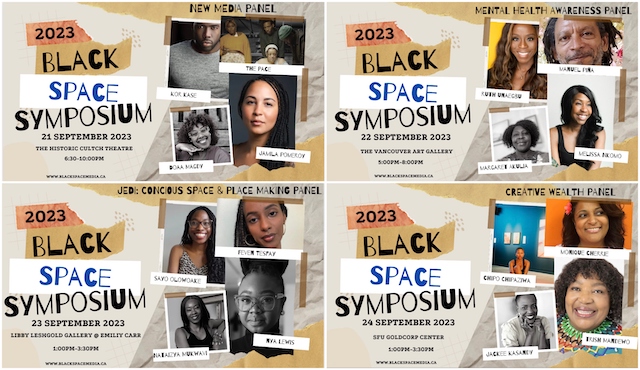 September 21, 2023 at The Vancity Culture Lab @ The Cultch
New Media Panel: The Rise of AI, Virtual Spaces, & Representation
September 22, 2023 at the Vancouver Art Gallery
Mental Health Awareness Panel: A Space for Self Care & Community Care
September 23, 2023 at Rennie Hall @ Emily Carr
Justice Equity Diversity & Inclusion (JEDI): Conscious Space & Place Making
September 24, 2023 at SFU Goldcorp Centre for the Arts
Creative Wealth: Developing New Formats for Resource Exchange, Funding, & Mentorship
Follow Black Space Media on Facebook and Instagram for more information.