All are welcome at the second annual stɑl'əw̓ Pow Wow in Langley happening September 15-17, 2023 at the Langley Events Centre hosted by the stɑl'əw̓ Arts & Cultural Society. This immersive three day cultural experience celebrates Indigenous culture, traditions, music, regalia, and art.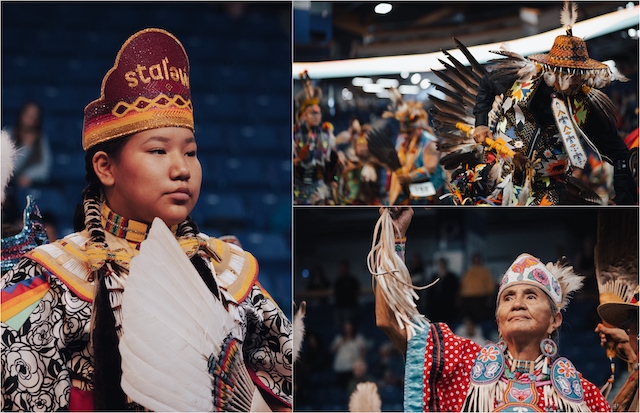 stɑl'əw̓ Pow Wow in Langley
When:

Friday, September 15, 2023 from 5:00pm to 9:30pm
Saturday, September 16, 2023 from 11:00am to 10:00pm
Sunday, September 17, 2023 from 10:00am to 6:00pm

Where: Langley Events Centre (7888 200 Street, Langley)
Admission: Purchase a weekend pass (from $20) or single day pass (from $10) online in advance
At one of the largest pow wow events in the Metro Vancouver area, participants will sing, drum and dance together, immersing themselves in the artistic and cultural traditions that demonstrate the intergenerational and interconnectedness of Indigenous ways of being and knowing.
The stɑl'əw̓ Pow Wow welcomes the 2022 Drum Competition Winners, Black Lodge Singers, as this year's Host Drum Group, alongside Wild River Singers, who return again this year as Honorary Host Drum.
There will also be a market that supports Indigenous artists and artisans. Shop and enjoy a wide variety of authentic traditional foods, art, jewelry, beading and more from a variety of talented vendors.
Pow wows are Indigenous gatherings and celebrations, traditionally presented by one First Nation to welcome and honour others. The stɑl'əw̓ Pow Wow is open to the public, and everyone is welcome to attend, supporting and uplifting one another on the path of reconciliation. Gathering to share the rich Indigenous heritage of the region helps keep traditional ways alive, and creating an inclusive and safe space for everyone to celebrate Indigenous culture builds important and lasting connections in the community.
stɑl̓əw̓ Arts & Cultural Society is an Indigenous women-led registered charity, located on the unceded territory of Kwantlen First Nation.
stɑl'əw̓, meaning "big river" in the hən̓q̓əmin̓əm̓ language, is the name of a celebration that reflects the generosity and deep connections local Indigenous communities feel to what is known today as the Fraser River. The river connects Indigenous communities to one another and to the land they call home.
Follow the stɑl'əw̓ Arts & Cultural Society on Facebook for more information.