The Rifflandia Festival in Victoria will close out the summer festival season featuring Iggy Pop, Diplo, Paris Hilton, Chris Lake, Run The Jewels, Herbie Hancock, Salt-N-Pepa, Mavis Staples, KALEO, Chromeo, and more over the course of two full weekends in Victoria this September.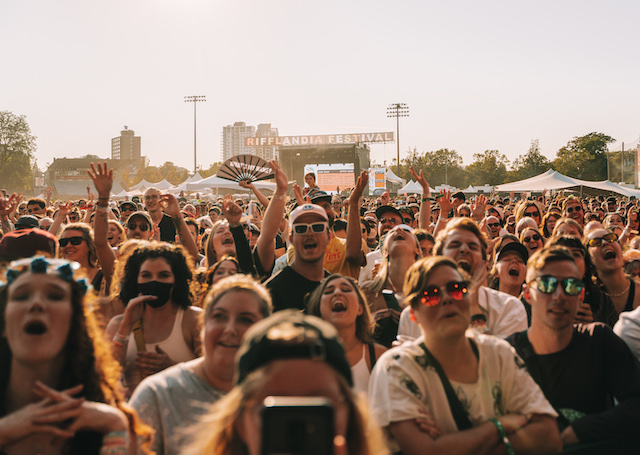 After a four year hiatus, last year drew some of the biggest audiences Rifflandia has ever seen, and they're expecting over 60,000 music-lovers to descend upon the BC's capital city this time around.
Rifflandia Festival 2023
When:

September 7-9 (Electric Avenue, 19+)
September 15-17 (The Park, all-ages)

Where:

Electric Avenue located at Pembroke Street and Store Street, Victoria
The Park is located at Royal Athletic Park (1014 Caledonia Ave, Victoria)

Admission: 2 Weekend Super Passes, 3-Day Park Passes, 3-Night Electric Avenue Passes, Single Day Tickets, VIP and Kids' Tickets all available online now.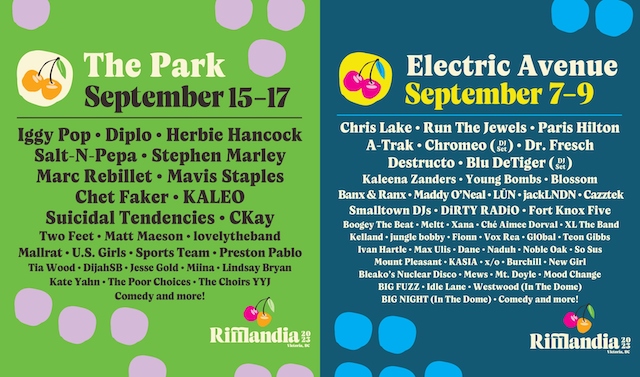 View the complete lineup online and the schedule broken down by location and date.
Lovelandia returns on September 17th at The Park as couples wed at Rifflandia. Although, there's no guarantee any festival performers take part in the wedding party like previous years, you never know. For all three days of The Park, Kidlandia will be packed with fun for young music fans.
Lafflandia is no joke with the lineup of comedians featuring Arthur Simeon, Ryan Williams, Courtney Gilmour, and more. Finally, So:Bar, Rifflandia's new alcohol free bar powered by Zero Proof Brands and serving non-alcoholic beer, cocktails, cider, and sparkling water.
There will also be cannabis delivery to festival-goers on-site, in real time. In partnership with a Health Canada certified retailer and delivery company, Rifflandia will host a designated delivery point on festival grounds, appropriately dubbed Splifflandia. Orders can be placed either in advance of the festival or in real time and will have a similar user experience to pre-ordering a cup of coffee.
For even more fun, each festival day has a theme and the chance to dress to impress.
September 7: Fuzzy Thursday
September 8: HOT Friday
September 9: Neon Saturday
September 15: Vinyl Friday
September 16: Sparkle Saturday
September 17: Summer Camp Sunday
For a complete list of ticket options, event information and updates, visit Rifflandia online. Follow Rifflandia on Instagram and Facebook.
Browse more Vancouver Festivals this season »