Celebrate the tastes and sounds of South Asian culture with Punjabi Market Live, a huge outdoor street party happening August 27th in the heart of Vancouver's Punjabi Market. The event showcases the spirit of multiculturalism and diversity with live performances, DJ's, dance, music, fashion, food, visual art and more.
Punjabi Market Live in Vancouver
When: Sunday, August 27, 2023 from 12:00pm to 6:00pm
Where: Main Street between 49th and 51st Ave
Admission: Free!
In partnership with the Punjabi Market Collective, the Monsoon Festival of Performing Arts is bringing dance, music, visual art, cuisine, fashion, and more to Main St between 49th & 51st Ave for this outdoor street celebration.
Hosted by CBC's Baneet Braich, Punjabi Market Live will feature Internationally renowned DJ's spinning the sounds, performances by Canadian Artist and composer Cinnamon Sandhu, multi award winning music producer and artist Pav Dharia and the soulful sounds of rising star Gurtêj aka NY Virtuoso.
A new addition this year is The Vancouver Canucks and Warriors Kids Zone, a place where families can connect. Fin the Canucks mascot will be on hand to take pictures behind the blue, green and white inflatable. There will be arts and crafts, face painting, and Vancouver Warriors lacrosse will have a net set up to practise your shots. 
Shops along the corridor will be open and foodies will fill their appetites with traditional dishes from local restaurants. Food trucks will also be on site and there will be free chai and jalebis, a favourite Indian sweet available for all to enjoy.  
Visit the website for the full event lineup.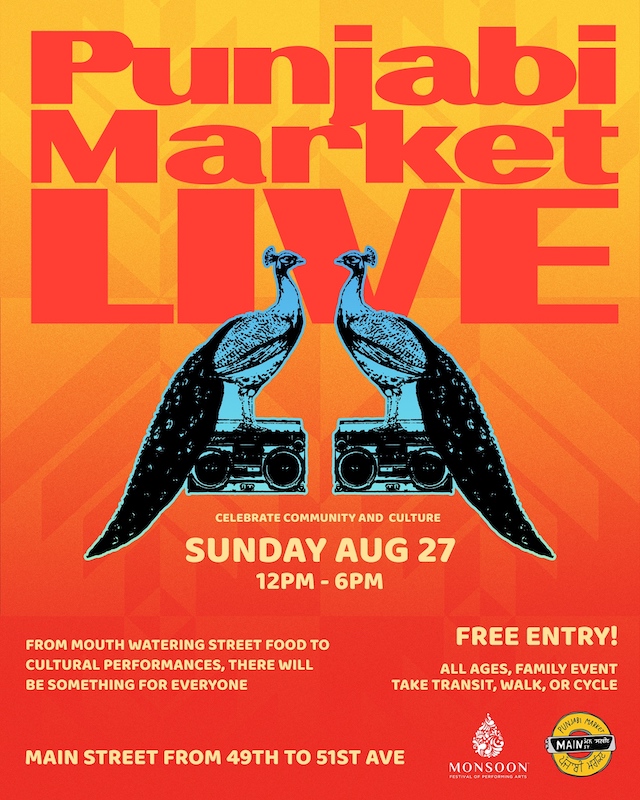 The Punjabi Market Collective is a group of passionate advocates, artists, students and entrepreneurs who are working towards revitalizing Vancouver's historic Punjabi Market by beautifying the market, developing and promoting businesses and creating a hub for arts and culture.
The 8th annual Monsoon Festival of the Performing Arts, presented by the South Asian Arts Society, runs August 17- 31, 2023. It has become the place for art and culture enthusiasts, attracting generations of families and friends who gather each year to celebrate South Asian culture through diverse and exciting programming.
Browse more free events around Vancouver »