Odihi has announced its first-ever Bigger Ideas Conference, happening September 16th in New Westminster. This event will bring together leaders, thinkers, and innovators dedicated to advancing women's education and career progression.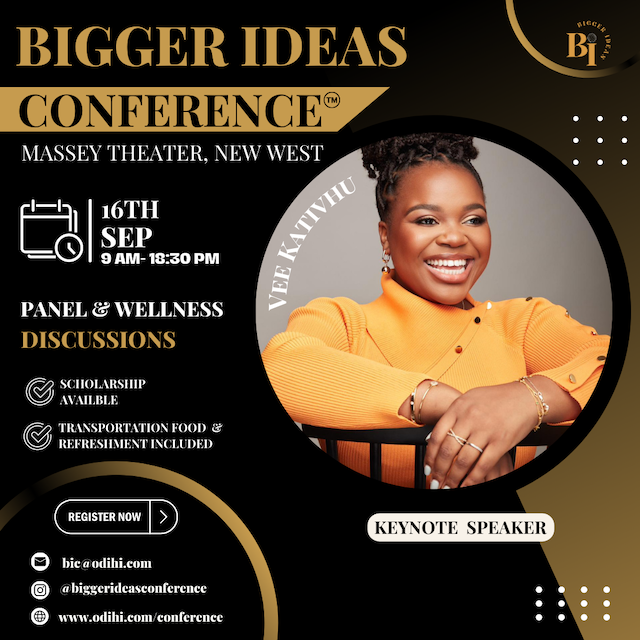 Bigger Ideas Conference from Odihi
When: September 16, 2023 from 9:00am – 6:30pm
Where: Massey Theatre (735 8th Ave, New Westminster)
Admission: Tickets available for purchase online ($43.93 – $80)
Odihi creates better paths and new opportunities for Black, Indigenous, and People of Colour (BIPOC) women and girls through educational workshops, mentorship programs, community platforms, and social impact.
All those female-identifying (19+) are invited to be apart of the event, from aspiring students to seasoned entrepreneurs and all in between. The Bigger Ideas Conference features panel discussions, wellness, and breakout sessions with topics covering leadership, career transitions, studying and working, job interview coaching, and more.
The Conference serves as an opportunity for attendees to embrace bigger ideas, ignite their passions, and se the stage for meaningful growth. Whether you are looking to enhance your career trajectory, improve your well-being, or simply connect with like-minded individuals, this event promises to leave a lasting impact. Attendees are also invited to attend a follow-up workshop on October 26, 2023.
Speaker Line-up
Vee Kativhu
Founder of Empowered by Vee
Meredith Garritsen
Founder of Wednesday Consulting
Larissa Crawford
Founder of Future Ancestors Services
Ro Nwosu
Pilates Teacher & Founder of Wildroga
Dhia Istiqamah
Licensed Financial Professional and Content Creator
Kristin Bower
EDI Consultant & Partner at Leda HR
Ritika Saraswat
Founder of Re-Defined & Business Analyst at Deloitte
Melody Lim
Founder of Mala the Brand
Sandra Millward
Founder of Radiate Wellness
Nuria Sefchovich
Founder of Three & Transformational Coach
Aarti Gadhia
Principal Solution Specialist at Microsoft
Corry Staff
Founder of Corry Staff Financial Group
Maxine Cunningham
Founder & CEO of Pick My Brain
Rowena Veylan
Founder and Lead Instructor of The New School of Fundraising and Indigenous Initiatives Lead
Tricia-Kay Williams
Registered Clinical Counselor of Metamorphose Counseling and Consultation
Sosa Eweka-Valentine
Founder of Talks with Sosa, Journalist and Registered Nurse
Brittany Clough
Actor & Founder of Real Adulting 101
Anjana Price
Community Branch Manager Vancity Credit Union
Laura Sukorokoff
Founder of C-Change Learning
There is a scholarship program for the Conference providing a select number of tickets free of charge to students, individuals from low-income households, and anyone in need of assistance.
Odihi is an empowerment and resource group for Black, Indigenous, and People of Colour (BIPOC) women and girls looking to develop the necessary skills to walk the career path of their dreams. Stay connected with the organization and conference on Facebook and Instagram.