Crave the Heights is a special 10-day neighbourhood dining showcase of Burnaby Heights' diverse food scene. Neighbours, visitors, and foodies alike can join the celebration and enjoy limited edition menu items, drink features, delicious desserts, and live music.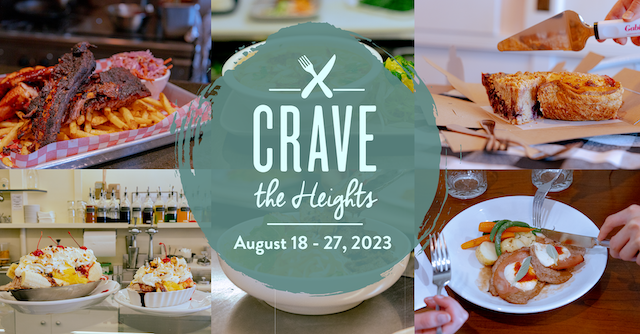 Crave the Heights in Burnaby Heights
When: August 18 to 27, 2023
Where: Burnaby Heights spans 10 blocks along Hastings, from Boundary Road to Gamma
Celebrate the diversity of delicious food and friendly restaurant hosts that the Heights has to offer. Participating restaurants and eateries will have special menu offerings and deals available during this year's Crave event.
Live Music
Live music from local artists will be presented throughout the event, from 6:00pm to 8:00pm at Heights Fountain Square (3994 Hastings St):
August 18 Gabriel Mark Hasselbach
August 22 LJ Mounteney and Undercover
August 24 Marlin Ramazzini and Salsa Beat
August 25 Mike Van Eyes and Marco Ibarra will be at the Tramonto Atrium (4365 Hastings St)
Participating Eateries and Venues
There's a 3-course dinner for $39 per person at Portobello, specials at Chad Thai, red velvet cake from Chez Christophe for $7.95, banana split specials at Glenburn Soda, and more! View all offerings here.
Restaurants:
Butchers Block BBQ (4091 Hastings St)
Chad Thai Restaurant (4010 Hastings St)
Circolo Wine Bar (4092 Hastings St)
Don Oso's Restaurant (4421 Hastings St)
Green & Oak Malaysian Restaurant (3760 Hastings St)
H&P Noodle House (4015 Hastings St)
Peaked Pies (4114 Hastings St)
Portobello Ristorante (4120 Hastings St)
Shen Sushi (4219 Hastings St)
Sopra Sotto (4022 Hastings St)
Coffee & Sweets:
Chez Christophe Chocolaterie et Patisserie (4717 Hastings St)
Gabi & Jules Bakery (4568 Hastings St)
Glenburn Soda Fountain (4090 Hastings St)
For your furry friends:
Big Dog Little Dog Bakery (4631 Hastings St)
Global Pet Foods (4293 Hastings St)
Awesome Deals:
Mi Tierra Latina (3993 Hastings St)
Share your foodie finds and experiences and enter the photo contest for a chance to win a $100 gift card to a participating Heights restaurant. The Burnaby Heights Instagram account has all those details.
Browse more Burnaby events »