The legendary Burnaby Blues and Roots Festival at Deer Lake Park is free this year on August 12th!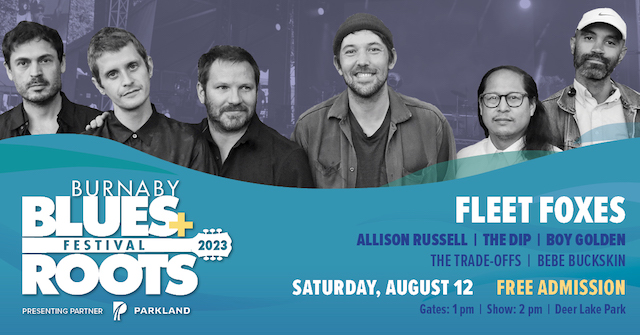 Regretfully, headliner Buffy Sainte-Marie has announced that she must retire from live performance due to a combination of health concerns and physical challenges, meaning she will be unable to perform at the upcoming Burnaby Blues + Roots Festival. We, along with all of her fans, wish her all the best for her health.
Burnaby Blues and Roots Festival
When: Saturday, August 12, 2023 gates open 1:00pm
Where: Deer Lake Park (5435 Sperling Ave, Burnaby)
Admission: Free! The site is limited to a 9,000 attendance capacity so be sure to arrive early.
This year's lineup features Fleet Foxes, who have received two Grammy nominations­—the first for Best Folk Album in 2012 for "Helplessness Blues" and the second for Best Alternative Music Album in 2022 for "Shore." Their first full length album, "Fleet Foxes," earned praise from Rolling Stone, comparing the band's sound to the likes of the Beach Boys, Animal Collective, and Crosby, Stills & Nash.
Also joining the impressive lineup this year will be 2022 RBCxMusic artist Bebe Buckskin. Bebe Buckskin is a Cree/Metis artist with deep roots in the muskeg and boreal forest of Northern Alberta. Naturally bluesy, nostalgically rock n roll and undoubtedly soulful, her sound is a fresh amalgamation of vintage genres.
Guests can also enjoy performances from Allison Russell, The Dip, Boy Golden, and Arctic blues artists The Trade Offs.
Along with incredible live music attendees will see the return of signature attractions and amenities including a family zone, food trucks and more. Gates will open at 1:00pm with the opening act taking the stage at 2:00pm.
Lineup Schedule
Bebe Buckskin 2:00–2:40pm
The Trade-Offs 3:00–3:45pm
Boy Golden 4:00–4:45pm
The Dip 5:15–6:15pm
Allison Russell 6:45–7:45pm
Fleet Foxes 8:30–10:00pm
Burnaby Blues and Roots Festival has been a highlight of the outdoor concert season since 2000 and celebrates the influence of roots and blues music in a unique venue. The festival encourages cultural awareness of musical talent and provides a platform for local and Canadian artists and ensuring that female and BIPOC artists are represented.
The Burnaby Blues and Roots Festival is presented by the City of Burnaby, in association with Live Nation. Follow on Facebook and Instagram for updates.
Miss604 is a proud sponsor of the Burnaby Blues and Roots Festival