After a three-year hiatus, White Spot Pirate Pak Day returns on Wednesday, August 16th. This is a legendary day in BC not only because for one day only everyone can feel like a kid again and enjoy this iconic children's meal, but you'll be supporting a great local cause.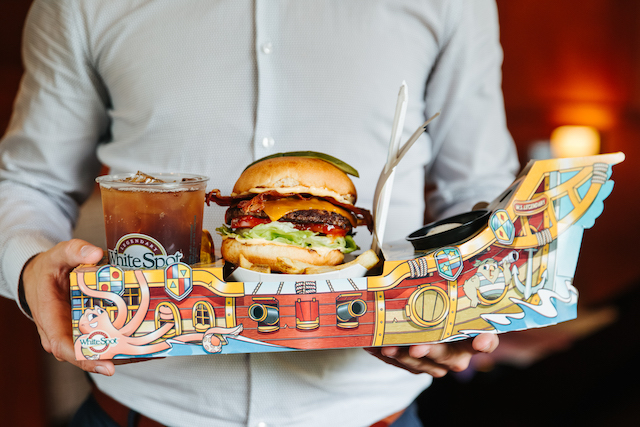 White Spot Pirate Pak Day
On Wednesday, August 16th, $2 from each Adult and Kid's Pirate Pak sold through dine-in and take-out will help send children and young adults to the Zajac Ranch for Children, a long-time BC based charity dedicated to giving children and young adults with life threatening illnesses and chronic disabilities an unforgettable camp experience.
53 full-service White Spot locations are participating (excluding Kelowna Airport, R+D Kitchen by White Spot & Triple O's), with the availability of a one-day-only menu starting at 11:00am.
The Adult Pirate Pak Day menu is available for dine-in and take-out (delivery is excluded), and includes: a limited selection of famous burgers (Legendary, BC Chicken, Bacon Cheddar, and Brie & Mushroom Veggie); the White Spot Club; and Dippin' Chicken. All are served in the iconic Pirate boat, and come complete with Kennebec fries, creamy coleslaw, a soft drink, a scoop of premium rich ice cream, and a chocolate "gold" coin.
In its 11th year, Pirate Pak Day has so far raised $889,502 (which equals 444,751 Pirate Paks sold), sending hundreds of children and young adults to camp for a special week at the 41-acre ranch in Mission, where they participate in a variety of activities, including horseback riding, kayaking, water sports and arts and crafts — opportunities that wouldn't otherwise be possible. Hundreds of children have had their lives enriched, lasting memories created, and new experiences made possible through continued guest support of Pirate Pak Day.
This year, the annual day of Pirate fun and fundraising is poised to surpass a lifetime total charitable donation of $1 million raised on Pirate Pak Day for children and youth in need. That's quite an accomplishment for the popular children's meal, first introduced in 1968, and now with more than 24 million sold!
Normally only available to kids aged 10 and under, each Pirate Pak is served in the famous 100% recyclable and compostable cardboard boat and includes "endless" Kennebec fries, creamy coleslaw, choice of soft drink, premium rich ice cream, and the treasured "gold" coin that has served as the booty since founder Nat Bailey created the iconic meal.
Visit the White Spot website for more information or follow on Instagram.