Science World After Dark is celebrating Pride with a special edition of its late night, adults-only event series. Enjoy this unique and inclusive STEAM (science, technology, engineering, arts & design, and mathematics) experience with one-of-a-kind performances, a tuned-in DJ, and tasty food.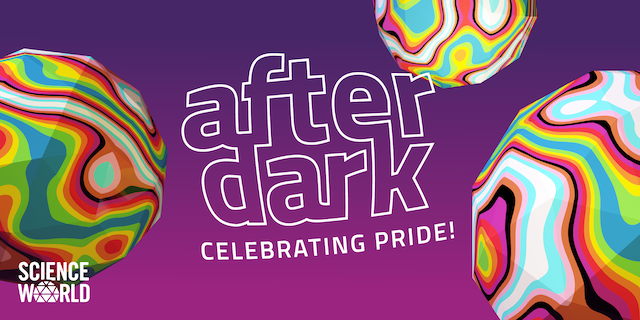 Science World After Dark Celebrating Pride
When: Thursday, August 3, 2023 from 7:00pm to 11:00pm
Where: Science World (1455 Quebec St, Vancouver)
Tickets: Available online now ($5 off for Science World members). Food and drinks are available for purchase.
Honour the rich history of Pride in Vancouver while uplifting our 2SLBGBTQIA+ communities and looking towards a future free from hate. The incredible lineup of performers, drag stars, and science communicators, includes Anya Anomaly, Xanax, Abb 'Original, Genesis, Ruth Odare, Bongganisa, and host Batty Banks.
More Vancouver Pride
Don't miss the Vancouver Pride Festival around Concord Pacific Place and False Creek near Science World, August 5-6, 2023.
More at Science World
Looking for more evening fun at Science World? Twilight Tuesdays are back! Every Tuesday through the summer, Science World will be open to explore until 8:00pm. Admission is only $16.50 for adults and $13 for kids aged 3-12 after 5:00pm on these days.
Browse more Vancouver Festivals this season »