Music on Main returns to Vancouver's Mount Pleasant Park to brighten up your summer evenings with a series of free concerts in August. What started as sharing free live music safely outdoors during the pandemic has turned into an annual event, filling the park with even more live music and the gorgeous sounds of instruments like the flute, harp, cello, and the voices of Vancouver.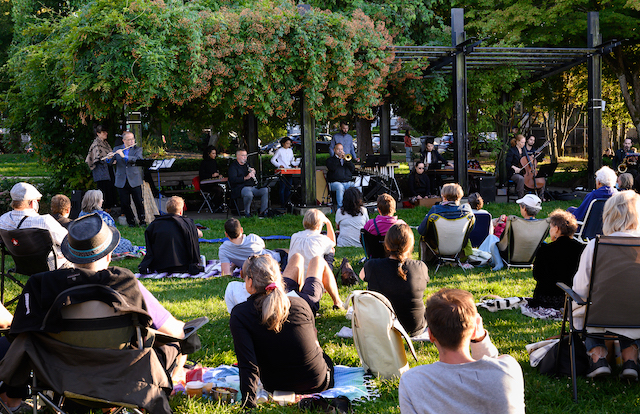 Music on Main Summer Pop-Up Concerts in Mount Pleasant
When: August 14-16 and 21-23, 2023 concerts begin at 6:30pm
Where: West 16th Ave at Ontario Street, Vancouver
Tickets: Free admission
Relax and enjoy music that reflects the sounds of Vancouver as the entertainment returns this August. Become immersed in the gorgeous sounds of a string quartet, original Persian compositions, classical arrangements, and more talented performers.
Lineup
Monday, August 14: Raincity Quartet (Brooklyn Wood & Yiyi Hsu, violins; Alex Beggs, viola; and Bruno Quezada, cello)
Tuesday, August 15: Saaz o Raaz (Saina Khaledi, santour; Ali Sajjadi, oud; Ali Razmi, tar; Sharanjeet Singh Mand, sitar; and Sunny Matharu, tabla)
Wednesday, August 16: Paolo Bortolussi (flute); Calvin Dyck (violin and accordion); Krystal Morrison (clarinet); and Mark Beaty (bass)
Lineup for August 21-23 to be announced!
Bring your friends and a picnic, and join in a variety of top-flight musicians that invites you to take a breath and simply, listen. Additionally, local food trucks will be onsite on certain dates.
For more information on schedules and food truck dates visit Music on Main online, on Twitter, and on Facebook.
Browse more free events around Vancouver »