The Indian Summer Festival (ISF) is back for its 13th edition with ten ticketed and free events running from July 6 to July 16, 2023. This year, the carefully curated festival speaks to the theme of "inter/dependence'' with events hosted in venues across Vancouver.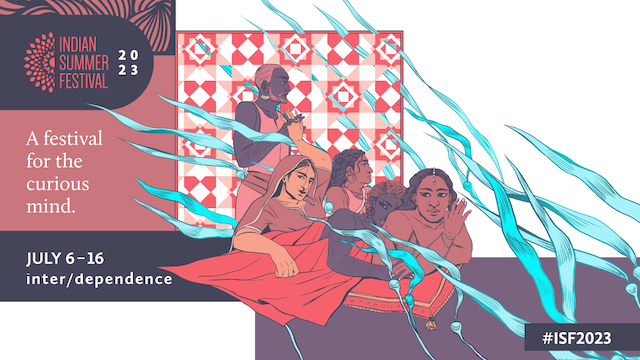 Indian Summer Festival 2023
"The Indian Summer Festival programming is always guided by our themes that aim to introduce festival goers with new ways to think, feel and perceive the world around us and our role within it," says Pawan Deol, Executive Director of Cultural Programming. "This year, our curatorial team worked with artists on the "inter/dependence" festival theme to bring us from separateness to connectedness along with a sense of joy and levity with the work."
Event Lineup
Opening Party: inter/dependence
Thursday, July 6, 2023 at 7:00pm
Performance Works, 1281 Cartwright Street, Vancouver
Tickets $100, purchase online
The legendary art-filled party features a compelling performance by Nisha Patel, the Poet Laureate Emeritus of the City of Edmonton, a trans-continental choral performance weaving together traditional sounds from South Asia, the Middle East and East Africa orchestrated by the singular composer/conductor Hussein Janmohamed along with the Afro-Caribbean rhythms of DJ Nea. Chef Tushar Tondvalkar will curate an exquisite menu featuring Indian Pantry, Kula Kitchen and Ono Vancouver.
The Vessel With Two Mouths – Art Installation by Rajni Perera
July 6 – 13, 2023
Roundhouse (181 Roundhouse Mews, Vancouver)
One of the country's leading multimedia artists Rajni Perera, is making her Vancouver debut with a new body of work, The Vessel with Two Mouths. Sprung from Perera's imagination after a month-long residency in her home country of Sri Lanka, this exhibit at the Roundhouse represents her longing for an ancestral home and renegotiates her relationship with her heritage.
Rajni Perera: In Conversation with Devyani Saltzman
Friday, July 7, 2023, at 7:00pm
Djavad Mowafaghian Cinema, SFU Woodwards (149 W Hastings St, Vancouver)
Tickets from $20, purchase online
Join Rajni Perera for an in-depth conversation with writer/curator Devyani Saltzman about her practice, her relationship to ancestry and Sri Lanka, and the Vancouver debut of her exhibition, The Vessel with Two Mouths. The talk is followed by a reception at the exhibit itself, at the Roundhouse.
Not What You Expected: Harsha Walia & Anjali Appadurai with Anoushka Ratnarajah
Saturday, July 8, 2023 at 8:00pm
Performance Works, 1281 Cartwright Street, Vancouver
Tickets from $15, purchase online
Two powerhouse activists, Harsha Walia and Anjali Appadurai, pushing against the expectations to behave like a model minority, cut through the noise in this honest conversation about compassionate leadership, institutional accountability and transparency, and decolonization. They share what drives them to continue fighting for the things that matter to them and those they love. This conversation is facilitated by interdisciplinary arts organizer and curator Anoushka Ratnarajah.
Watersmeet
Tuesday, July 11, 2023 at 7:00pm
Performance Works, 1281 Cartwright Street, Vancouver
Tickets from $20, purchase online
Watersmeet features genre-defying music composed by sitarist Mohamed Assani and an eveningshowcasing a special live musical collaboration between South Asian and Western musicians. Each musical tradition brings rich histories and stories, currents that collide and merge into a new tide that flows into a greater reservoir of creative expression.
Punch Up
Wednesday, July 12, 2023 at 8:00pm
Performance Works, 1281 Cartwright Street, Vancouver
Tickets from $20, purchase online
ISF presents a diverse roster of laugh makers for a dynamite night of stand-up! Featuring: Joanne Tsung, whose unfiltered stand-up reflects her experience as a queer, first-generation immigrant settler from Taiwan. Tin Lorica's deadpan observational storytelling pulls you into ridiculous yet relatable life moments. A Cree-Métis performer, Sasha Mark is known for his diverse comedy showcase, 'The Sasha Ha-Ha Show.' Using her Indigenous perspective and fashion-focused lens, Savannah Erasmus creates a fresh and endearing stand-up persona to deliver sharp truths, and Indian Summer Festival favourite Kamal Pandya.
Rhythm Infinitum: Shabazz Palaces & Sarathy Korwar in Concert
Thursday, July 13, 2023, at 7:00pm
Chan Centre for the Performing Arts (UBC 6265 Crescent Rd, Vancouver)
Tickets from $30, purchase online
Two visionary artists come together to explore, explode, and break assumptions of the linearity of time. This is an invitation into kaleidoscopic sound worlds, charting pathways from past-present-future. Experience the Afrofuturist hip-hop sonic landscapes of Shabazz Palaces (Seattle) and the Indofuturist world-building of percussionist and polymath Sarathy Korwar (UK).
Svāhā! – Dance Performance with Nova Bhattacharya
Friday, July 14 and Saturday, July 15 2023 at 8:00pm
Vancouver Playhouse (600 Hamilton St, Vancouver)
Tickets from $19, purchase online
In addition to a cast of more than 20 performers from almost 30 different dance traditions – everything from Bharatnatyam to Butoh, as well as ballet, jazz and salsa, Svāhā! features local artists in an opening invocation that accompanies the performances. From this experience of communion and solidarity comes a work brimming with life, colour, and revelry of every hue.
Indian Summer Festival Closing Cabaret
Sunday, July 16, 2023, at 7:30pm
Performance Works, 1281 Cartwright Street, Vancouver
Tickets rom $20, purchase online
The 13th Indian Summer Festival wraps with a party featuring some of our city's most vibrant young artists! Featuring beats of DJ Vixen Von Flex and DJ Business Bacha, a drag performance led by Batty Banks andan epic trio of musicians presenting a brand-new collaboration featuring trumpeter Feven Kidane, the innovative jazz fusion sounds of Shruti Ramani, and the wondrous bass player Harmeet Kaur Virdee.
Free Weekend Indian Summer Festival Programming
ISF Sound System – Free Music Sunday
Sunday, July 9, 2023, from 11:00am to 5:00pm
Granville Island Public Market – Courtyard (1689 Johnston St, Vancouver)
Celebrate summer in the city with our free ISF music stage in the heart of Granville Island. Join us for a day of incredible live music in the Public Market Courtyard at the foot of False Creek.
Browse more Vancouver Festivals this season »