The W Seattle has managed to serve up unique artwork, themed itineraries and playlists, and plenty of travel inspiration, through its innovative Faces of Seattle theme rooms. Your room is literally your itinerary, introduced and accessed through a hand-painted mural on the wall of your suite.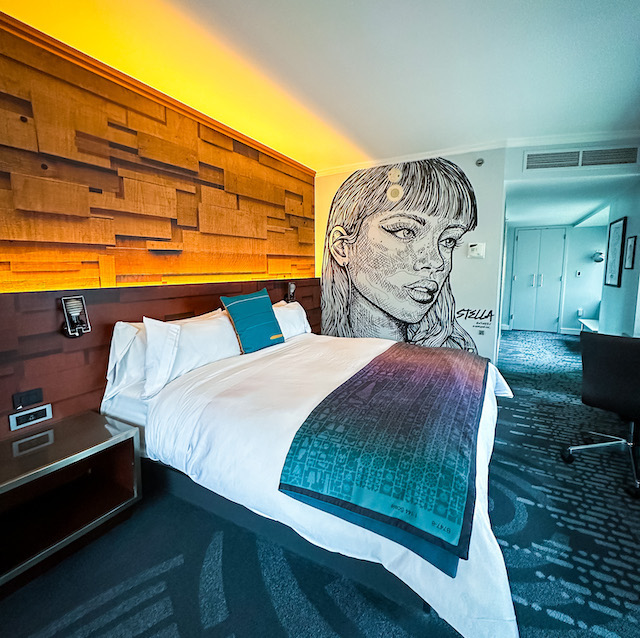 W Seattle – Where Your Room is Your Itinerary
If you're like me and you've been to Seattle many times for a ballgame, soccer match, sightseeing, or a concert, this is a really unique way to have a home base somewhere familiar (on the corner of Seneca and 4th), but to also explore one of the many, many neighbourhoods that introduce so much more depth to the city, beyond the Space Needle or T-Mobile Park.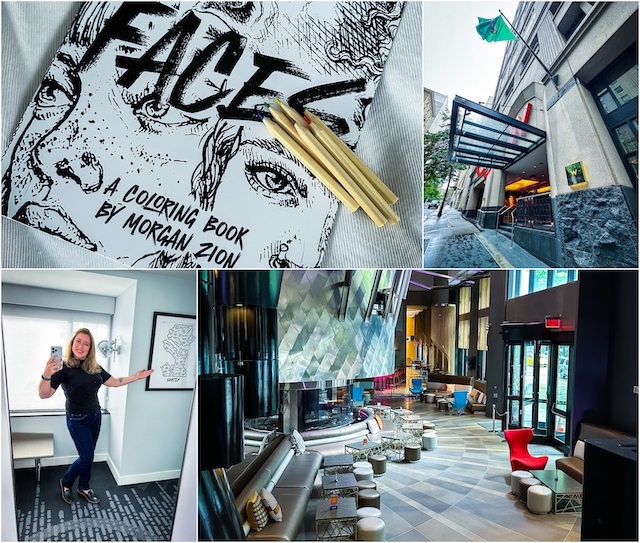 Faces of Seattle Rooms – How it Works
Located on the 14th floor, guest rooms are home to an original hand-painted mural by resident artist, Morgan Zion. Each has a unique portrait of a person representing Seattle's vibrant culture. A personalized story is woven into each face showcasing the activities local love to do, neighbourhoods they love to play and live in, hidden gems they enjoy, and the diversity they represent. You can just scan an in-room QR code to unlock your custom itinerary.
Zion has also painted several other large murals throughout the property, including TRACE Market where we enjoyed breakfast. She also teaches monthly W Yoga activations for guests and the Seattle community.
During my recent stay, I was in the Stella Room, which is Capitol Hill themed. The vibrant and inclusive neighbourhood starts just a few hundred meters from the hotel, east across the I-5 overpass.
Here are just some of the suggestions: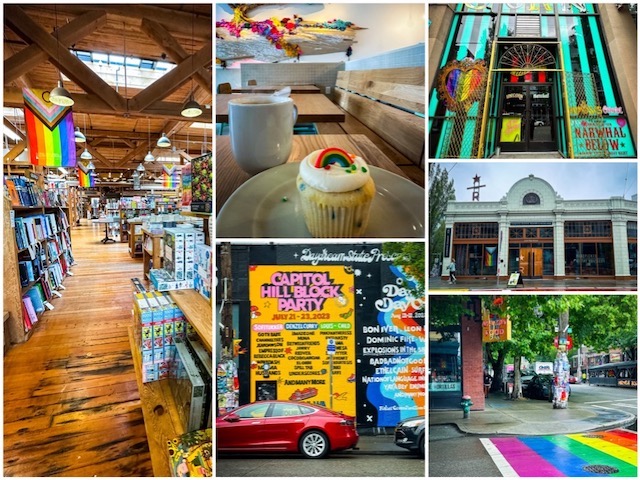 Some of these spots also have perks for W Seattle guests, like a free Brain Wash boost added to your drink at Wunderground.
Want to explore Ballard? Check into The Robyn Room. Queen Anne? Stay with Leigh. There are ten to choose from when you make your booking.
We really enjoyed the "Whatever, Whenever" service model at the W Seattle, which was actually the first time in a long time I stayed at a place with 24/7 in-room dining service. Plus, the Faces rooms are all on the 14th floor so you might have a great view of the mountains or the sound. I enjoyed watching the ferries come in and out of port from our corner view.
Also as someone who used to drink a lot of craft beer, and who doesn't drink at all anymore, it was fun to plan out two full days and discover so much more of the Seattle than my usual craft brewery crawl itinerary.
Pro tip: If you usually get viewpoint/skyline shots of the city from Kerry Park, try the Water Tower lookout in Capitol Hill's Volunteer Park next time for a new perspective.
Nordstrom Shopping Package
Do you already miss Nordstrom in Vancouver? There's also the Nordstrom Package at the W Seattle where you will receive a $100 gift card at check-in plus a beauty bag when you visit the store. I wasn't sure at first what I'd get with the gift card but my niece and I both ended up getting really cute summer dresses for just under $100 — and of course you can also spend more than that!
If you do a bit more shopping, there's also W Package Pro service. Can't take bags and parcels to one of those awesome concerts or ballgames right after your visit? No need to worry. You can drop off your items with the concierge at Nordstrom and they will appear in your hotel room by the next morning. Super easy! The Nordstrom Package also comes with vouchers for two drinks in the W Living Room Bar.
Follow W Seattle on Instagram for their latest package offerings (like Faces, or Nordstrom), and more inspiration for your next visit to the Emerald City.