With a line-up of new and exciting things to see and do, there's never been a better time to visit the Malahat SkyWalk. Experience a new Tower Plaza with local food and live music, stretch and breathe in the fresh air with Tower Top Yoga, and enjoy even longer opening hours this summer.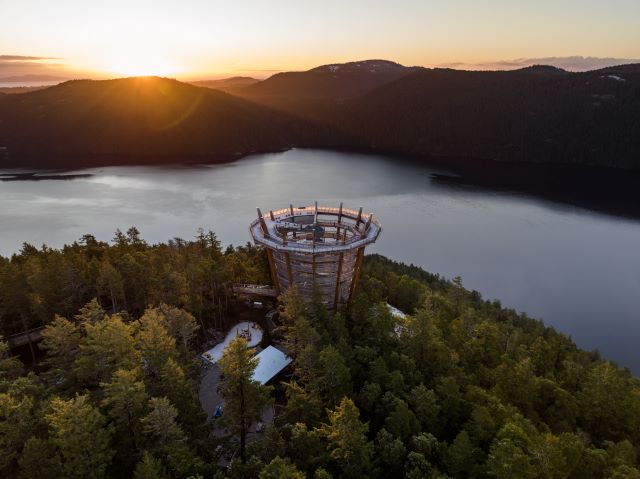 Visiting the Malahat Skywalk in the Summer
When: Summer 2023
Where: 901 Trans-Canada Hwy, Malahat, BC
Admission: Tickets and annual passes can be purchased online
Malahat SkyWalk is launching its reimagined Tower Plaza, featuring retro food carts including Bicycle Pizza and Softys, a live music series, and a canteen bar with locally inspired drinks.
Tower Top Yoga debuts, offering early morning risers a unique wellness experience and exclusive access to breathtaking sunrise views of Vancouver Island before opening hours.
Every Saturday afternoon, Malahat SkyWalk presents its Summer SkyWalk Music Series. Local bands and artists, such as Woodstick, Jaimey Hamilton, Nautical Disaster, and Undercover Lover, will grace the outdoor stage. The series starts on the Canada Day long weekend (July 1) and continues until September 2, making Saturdays at Malahat SkyWalk the ultimate destination.
For art and nature enthusiasts, Malahat SkyWalk combines the best of both worlds with an AI-inspired art exhibit displayed throughout the forest. Additionally, the attraction offers the magnificent 10-storey Spiral Tower, providing stunning views, an adventure net, and a spiral slide. There is also an elevated TreeWalk, ensuring an unforgettable summer experience for everyone involved.
To take advantage of all that Malahat SkyWalk has to offer during the summer along with the opportunity to experience a Vancouver Island sunset in full view, Malahat SkyWalk has extended hours and will be open between 9:00am and 8:00pm until September 4th.
For more information on summer events at the Malahat SkyWalk, visit their website and follow them on Facebook and Instagram.