Tonight at BC Place, in front of a crowd of over 20,000 fans, Vancouver Whitecaps FC defeated CF Montréal 2-1 to win the Canadian Championship and raise the Voyageurs Cup for the second year in a row.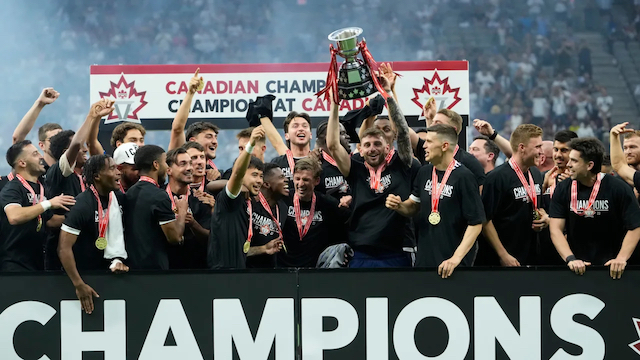 Vancouver Whitecaps FC Win Canadian Championship for 2nd Year in a Row
Brian White scored in the 58th minute and Ryan Gauld got the second goal off a penalty shot in the 66th minute to secure the lead – and the win. This is Vancouver's third Voyageurs Cup win, with the first in 2015 and second in 2022.
Best Young Canadian Player: Ali Ahmed
George Gross Most Valuable Player: Julian Gressel
With the championship in hand, the 'Caps also become the first MLS club to qualify* for the revamped 2024 Concacaf Champions Cup. The Concacaf Champions League, the region's premier men's club competition, will be known as the Concacaf Champions Cup starting in 2024.
Of the 27 teams total, up to 10 MLS teams can qualify via different pathways:
MLS regular season and Audi MLS Cup Playoffs: 5 teams (guaranteed)
Leagues Cup: 3 teams (must qualify on merit)
US Open Cup: 1 team (champion only)
Canadian Championship: 1 team (champion only)*
The Concacaf Champions Cup will continue to be played in a direct elimination knockout stage format and will be composed of five rounds: Round One, Round of 16, Quarterfinals, Semifinals, and Final.
The first four stages will each include home and away play, while the Final, where the region's Champion will be crowned, will be played as a single-leg match on a weekend date. Of the 27 clubs that will participate, 22 will begin play in Round One and five will receive a bye to the Round of 16.
The competition provides a qualification route to the new and expanded FIFA Club World Cup, which begins in 2025.
CANADIAN CHAMPIONS once again #CanChamp #VWFC @whitecapsfc pic.twitter.com/d3v4KW5DMO

— Rebecca Bollwitt (@Miss604) June 8, 2023
The Whitecaps are back at BC Place this coming Saturday, June 10th as they host MLS-leading FC Cincinnati at 7:30pm.