Back for its 10th annual event, the Vancouver Retro Gaming Expo brings vendors, artists, music, panels, tournaments, and more to New Westminster on June 24th.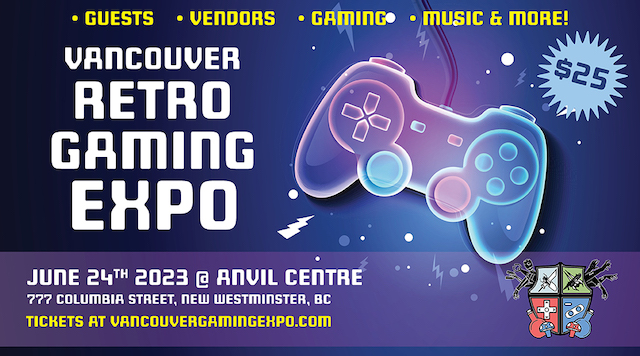 Vancouver Retro Gaming Expo in New West 2023
When: Saturday June 24, 2023
Where: Anvil Centre, 777 Columbia St, New Westminster
Admission: Tickets can be purchased online or at the door for $25 (+tax). Kids under 10 are free with adult ticket.
This year, the panels will feature "The Immortal" John Hancock, a long-time collector and YouTuber. Additionally, there will be Improv with The Fictionals, Interactive Trivia, Chiptune, Demoscene, and other informative, entertaining content for fans of all ages.
Throughout the day, musical guests will entertain with retro-gaming themed tunes. Performers include geeky ska-punk band The Wavebirds, rock bands The Koopa Troopas and Shane Steward, groovy folk group Balkan Bleeps, sci-fi synth artist 20SIX Hundred, and more.
There is plenty to see, including the largest dealer hall the event has ever had, a selection of free-play gaming, classic computers courtesy of The Chilliwack Retro-Computing Club. Additionally, mascot characters from Happyland Events, a costume contest, and many other exciting attractions.
A full event schedule and list of vendors is available on the Vancouver Retro Gaming Expo website. For more information, follow their Twitter and Facebook.