The Summer Salsa Cruise season is here! Enjoy a lineup of five sensational events on the seas with something for everyone.
Summer Salsa Cruises in Vancouver
Tickets are available now for:
Afternoon Family Cruise July 2
Fiesta Blanca Salsa Cruise with Latincouver July 15
Salsa Cruise August 12 (Barbie & Ken theme)
Salsa Cruise August 26 (Hawaiian theme)
Salsa Cruise September 9 (Decades theme)
The Summer Salsa Cruise Series has been a staple of the season in Vancouver for the last 23 years! Aboard the MV Britannia, you'll find three levels of music and dancing with Vancouvers best DJs along with the opportunity to participate in dance lessons – from salsa to other sultry Latin-style dance such as Bachata or Reggaeton.
The first salsa event will be the July 15th Fiesta Blanca Salsa Cruise in partnership with Latincouver, celebrating Latin American Week in Vancouver.
Come and find out for yourself why this has been a Vancouver tradition for over two decades! Whether it's your tenth or first time, you're on a date night, just visiting the city, or celebrating a birthday, or simply enjoying a night on the town– on the water.
The Salsa Cruises play a mix of all types of Latin music on the lower level and main level while the upper deck is a mix of Latin and Top 40 and Club Hits. Whether you want to partake in a night of lessons and dancing or just sit back and watch Vancouver's stunning scenery both on and off the boat, this will be a night to remember. Savour the tropical atmosphere, themed décor, sultry rhythms, and the delicious taste of Latin American food available on board.
Afternoon Family Cruise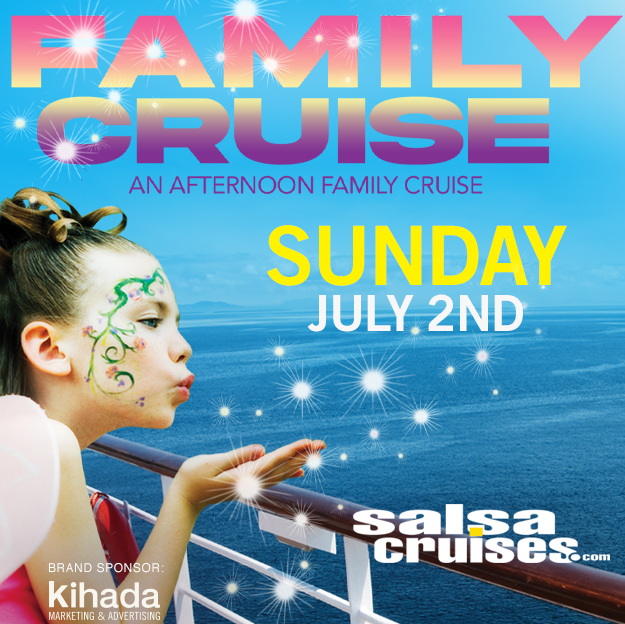 Don't miss the one-of-a-kind Afternoon Family Cruise on July 2nd. This two hour boat cruise for the whole family is themed for kids of all ages with princesses, superheros, face painting, hair braiding, dancing and singing along to all your favourite songs. This year's theme celebrates the launch of the new Little Mermaid live action movie with Ariel, Ursula and special guest The Black Panther.
Follow Salsa Cruises Vancouver on Instagram for the latest news.
Enter to Win
You can enter to win a pair of tickets to any of the five Salsa Cruise dates! Follow @miss604 and @salsacruises_vancouver on Instagram and like or comment on this post to enter to win. You can also leave a comment below on the blog for a bonus entry. I will draw one winner at 12pm on Monday, June 19, 2023. Good luck!
UPDATE! The winner is @hatboxghost1313
Afternoon Family Cruise is not included in the contest
Miss604 is a sponsor of the Vancouver Salsa Cruises season again in 2023.