The Steveston Salmon Festival, a Richmond tradition for the last 76 years, returns Saturday, July 1st. Once again it's set to be a grand celebration of the spirit of the community with a parade, family activities, fireworks, and lots of amazing food!
Steveston Salmon Festival and Parade
When: Saturday, July 1, 2023 from 9:30am to 10:30pm
Where: The festival will take place across multiple city blocks, stretching from Steveston Village to Britannia Shipyards National Historic Site.
Admission: Free with some ticketed options.
Spanning from Britannia Shipyards to the Gulf of Georgia Cannery, festival-goers are invited to enjoy the day-long program which will feature live music, exhibitions, demonstrations, hands-on activities and the return of the popular Canada Day parade.
Also returning will be the Chow Mein Booth, Japanese Cultural Show, Art Show and Sammy's Fun Zone where there will be plenty of kid-friendly activities and performances to enjoy throughout the day. Celebratory fireworks will conclude the night at Imperial Landing at 10:15pm.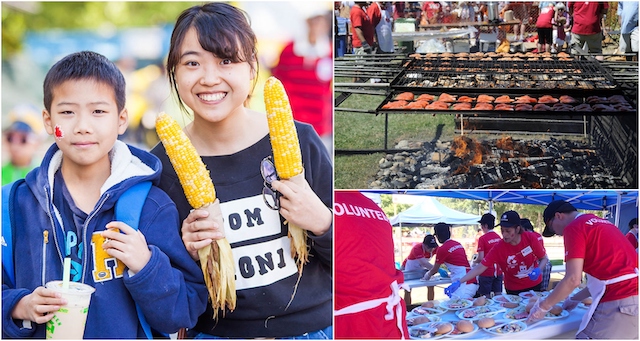 "The Steveston Salmon Festival is one of Richmond's most popular and enduring events," says Mayor Malcolm Brodie. "We are delighted to have it return to a full program and parade for the first time since 2019. The festival has been popular for over seven decades. We encourage the community to come together once again to celebrate the spirit of Steveston and its rich fishing history."
Steveston Salmon Festival Highlights
Kids' Bike Parade: a fun opportunity for children to cycle the big parade route to the cheers and encouragement of the waiting crowds before the floats take off. Starting at 9:30am.
The Pancake Breakfast will be at 8:00am in the Steveston Community Centre parking lot on July 1st. Enjoy some fluffy pancakes while waiting for the parade to start.
Canada Day Parade at 10:00am.
Salmon Bake held on the festival grounds, pre-order from June 9th to June 20th
Community Food Stations and food vendors: featuring an array of locally-made cuisine for all tastes including food trucks and participating Community Food Stations from the Steveston Japanese Language School, the Steveston Judo Club and the popular Chow Mein Booth.
Japanese Cultural Show: representing and celebrating the Japanese community's contributions to the fabric of Steveston.
Marketplace: featuring local vendors and goods.
Spirit of Steveston Entertainment Zone: with live performances by Orchard Sky and Warren Dean Flandez, food vendors and local beer and wine.
Sammy's Fun Zone: featuring family-friendly performances and hands-on activities in Steveston Park.
"We're so excited for the return of the popular Canada Day parade this year," said Alan Sakai, Chair of The Steveston Salmon Festival Committee. "Richmond residents will be in for a treat as there will be more than 70 floats on display, making it the largest Canada Day parade in the region. The festival is all about community and we're looking forward to bringing everyone together to celebrate with a range of cultural activities, delicious food, and entertainment for all ages."
Festival goers are encouraged to use public transportation, walk or ride their bike to the Festival. Parking is limited throughout the day and road closures will be in effect in and around Steveston Village from 8:00am to 6:00pm. A complimentary shuttle and wheel watch (bike storage) will also be available.
For more information, follow Fun Richmond on Facebook and Instagram, and find a full lineup of events and festivities online here.
Browse more free events around Vancouver »