The Polygon Gallery presents Deckchair Cinema – an outdoor summer film series in North Vancouver showcasing movies every Thursday night at sunset from the end of June to the end of August, 2023.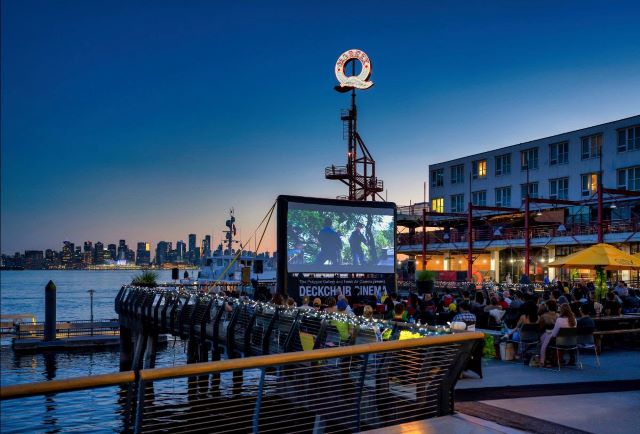 Free Outdoor Movies in North Vancouver
When: Every Thursday from June 29 until August 31, 2023
Where: Cates Deck (The Shipyards), Spirit Trail, North Vancouver. In front of The Polygon Gallery.
Admission: Free! Donations are accepted and includes access to Polygon Gallery's summer exhibition Jeremy Shaw: Phase Shifting Index.
Entering its second year, Deckchair Cinema treats audiences to a summer of al fresco film screenings. Spanning across 10 Thursdays, the screenings commence at sunset, and are complemented by music/entertainment leading up to showtime.
Attendees are encouraged to arrive early and make themselves comfortable by bringing their own blankets or low chairs.
An outdoor "Meet the Makers" market, curated by lifestyle brand OCIN, will feature local artisans and drinks from local wineries and breweries, which can be enjoyed on Cates Deck, a public space zoned for alcohol consumption.
Film Schedule
June 29 – Fantastic Planet, start time 9:30pm
July 6 – Interstella 5555, start time 9:30 pm
July 13 – What We Do In The Shadows, start time 9:15pm
July 20 – Whale Rider, start time 9:15pm Celebrating Squamish Amalgamation Day
July 27 – Big Trouble In Little China, start time 9:00pm
August 3 – Xanadu, start time 9:00pm Celebrating North Shore Pride Week
August 10 – Lovers Rock, start time 8:45pm
August 17 – Moonstruck, start time 8:45pm
August 24 – No Bears, start time 8:30pm
August 31 – Bullitt, start time 8:30pm
Follow the Summer Movies Nights Instagram account for updates.
Find more free outdoor movies around the region this summer.