The second annual Canada Together at Canada Place — one of the largest July 1 celebrations outside of Ottawa — features a diverse lineup of entertainment and activities and the return of the annual citizenship ceremony welcoming new Canadians.
Planned with representatives from the Musqueam, Squamish, and Tsleil-Waututh Nations, Canada Together will feature a full day of festivities, great food, family fun, and performances across multiple stages.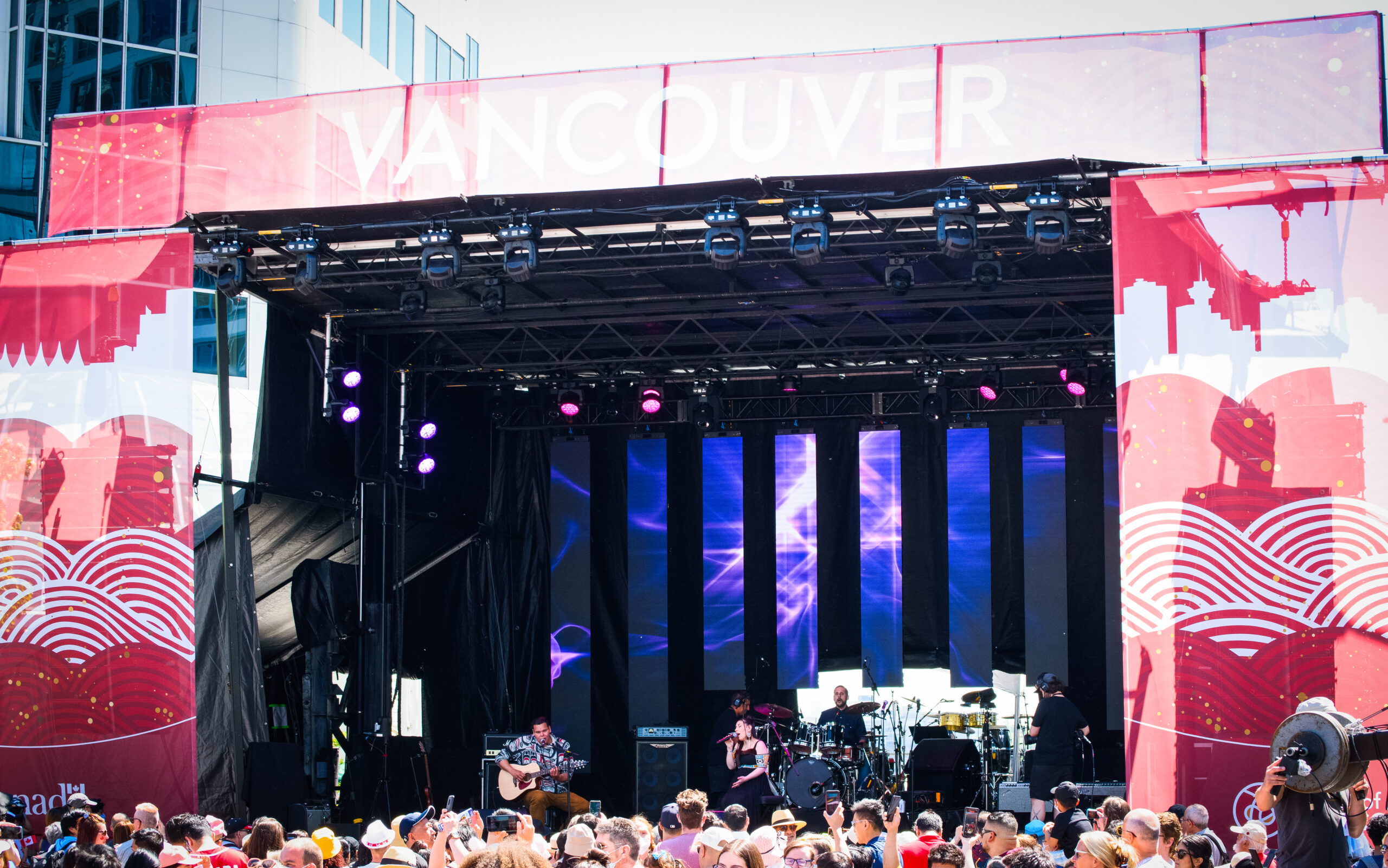 Canada Together at Canada Place July 1, 2023
When: Saturday, July 1, 2023 from 11:00am to 6:00pm
Where: Canada Place and surrounding plazas (all outdoors)
Admission: Free!
At 11:00am all zones and exhibits, including the main stage, will open with great entertainment and activities for guests of all ages. The iconic waterfront venue will cover five city blocks, including outdoor spaces at Canada Place, Jack Poole Plaza and surrounding city streets. All programming will take place outdoors.
Event Lineup
Enjoy incredible performances from acts including headliners Tegan & Sara, The Fugitives, Pat Chessell, and Murray Porter on the main stage. The North Point Stage (at the North Point of Canada Place) will highlight local emerging artists including Bukola, Tayos, Michaela Slinger, and 24 Strings along with a set from the amazing DJ O Show.
Admire traditional weaving and carving displays by local artists from Musqueam, Squamish and Tsleil-Waututh nations on site throughout the day.
Kids' Zone presented by CN at Jack Poole Plaza will have family-friendly entertainers and activities, including the Rock N' Beau Dance Party, the annual mascot dance-off, and performances from Mom Bop, Vancouver Performing Stars, and more.
View the full lineup listed by time and stage online here.

There will also be a variety of food trucks along Canada Place between Howe and Thurlow.
Once again, the theme of the event will be "Weaving together the fabric of a nation," which honours Canada's diversity and marks the day as one for gathering, celebrating, learning and sharing. Weaving is a common activity across many cultures and is a metaphor for the way the beauty, strength, and wisdom from the past can combine through multiple perspectives to create something meaningful for today and tomorrow.
The port authority encourages event attendees to take public transportation to the downtown Vancouver event, which is conveniently located near several bus routes and the Waterfront and Burrard SkyTrain stations. Canada Together will conclude at 6:00pm and the port authority is reminding the public that the event no longer includes an evening fireworks performance.
Get Involved
More than 200 volunteers help welcome over 150,000 guests who take part in the free event activities organized around Canada Place on July 1. Volunteering is a great way to build experience, get involved in your community, meet new people and show your community spirit. Volunteers must be at least 16 years old.
Volunteer positions are needed for the following areas:
Information kiosks
Site maintenance
Line monitors / ushers
Stagehands and runners
Talent / volunteer assistants
Greeters
Volunteers can sign up here. Follow Canada Place on Facebook for more updates.
Some highlights from 2022:
Miss604 is a proud sponsor of Canada Together at Canada Place July 1st.