The BC Achievement Foundation launched its 2023 Call for Nominations for the 17th annual Polygon Award in First Nations Art, which will be open until June 30, 2023.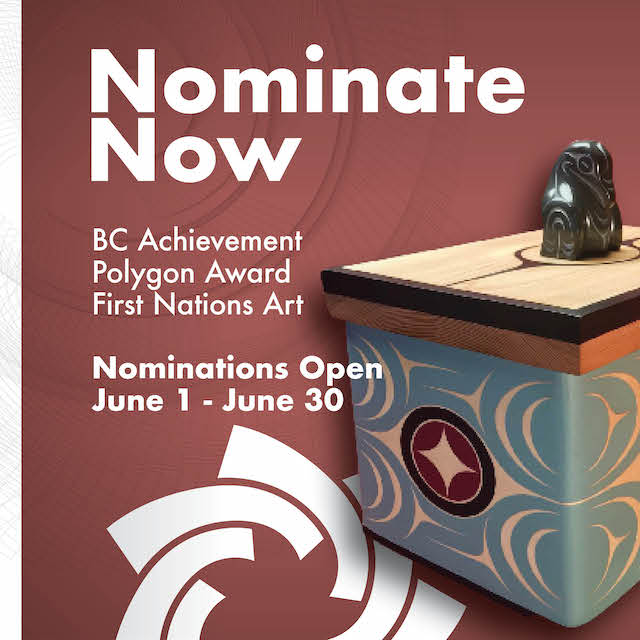 Polygon Award in First Nations Art Nominations 2023
The Polygon Award in First Nations Art (FNA) program recognizes BC First Nations artists for excellence in traditional, contemporary or media art. The Award is designed for artists from BC First Nations who have demonstrated a commitment to their art practice; have accumulated a body of work; and who are recognized in their communities as artists.
"First Nations art in BC holds immense cultural significance, representing traditions and histories that connect the people to this land. The Polygon First Nations Art Award is one of the earliest provincial programs to recognize the contributions of these artists through an achievement-focused lens," said Walter Pela, Chair of the BC Achievement Foundation.
Nominations are invited from throughout the province from BC First Nations artists who practice traditional or contemporary visual art in fields such as, but not limited to, carving, photography, beading, weaving, jewellery, painting, masks, sculpture, stonework, printmaking, basketry, textiles, and media art.
"Anytime you can do artwork and put it out there and make the Indigenous presence in these areas known, that could inspire a young Indigenous person to pursue their traditional art and culture," said Qwul'thilum Dylan Thomas, 2022 FNA Award recipient.
The 2023 Polygon Award in First Nations Art marks the 17th year of the program, which stands on the excellence of 95 recipients and the philanthropic community that supports BC Achievement's programming.
Nominations for this year's award will be accepted through BCAF's website from June 1-30.
Recipients will be announced in October, with an exhibit of their selected works taking place November 15-22 at the Roundhouse Community Arts and Recreation Centre in downtown Vancouver.
About BC Achievement
BC Achievement is an independent foundation established in 2003 that celebrates the spirit of excellence in our province and serves to honour the best of British Columbia. By recognizing the accomplishments of our province's entrepreneurs, artists, community leaders, youth and volunteers, its award programs pay tribute to exceptional people, doing exceptional work, while carving a path forward for others to follow.
Miss604 is a proud sponsor of BC Achievement Foundation programs in 2023