The BC Achievement Foundation launched its 2023 Call for Nominations for the 19th annual Applied Art + Design Award, which will be open until June 30, 2023.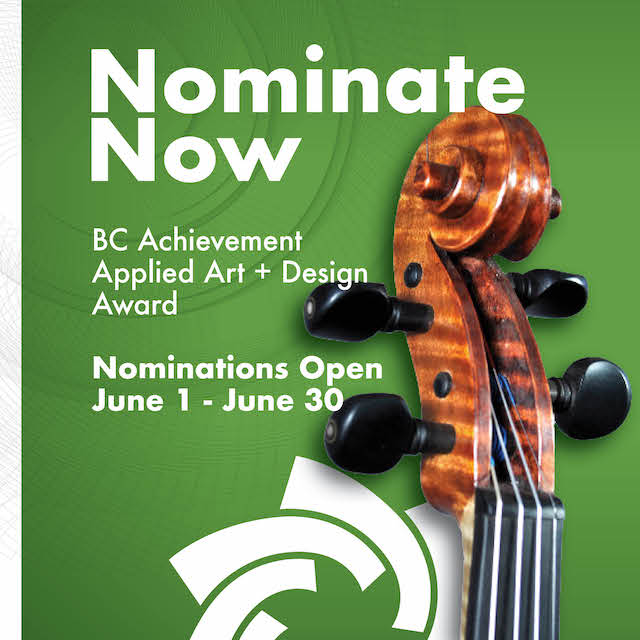 Applied Art + Design Award Nominations 2023
Presented since 2004, the Applied Art + Design (AAD) Award program celebrates British Columbians who excel in creating functional art. The program recognizes artists who work in mediums such as furniture, textiles, jewellery, ceramics, weaving, glass, fashion, to industrial design.
"The Applied Art + Design Award program honours creators and makers – those whose innovative work contributes directly to both the cultural and economic fabric of the province. Their artistic yet purposeful designs ensure that there is a sense of wonder and beauty to everyday items that are in every way extraordinary," said Walter Pela, Chair of the BC Achievement Foundation.
Applying for an award serves as a platform to communicate an artist's work, vision and creativity. The process invites an opportunity for critical artistic reflection and exposes artists and designers to a wider audience. The program welcomes submissions from those who produce work that has a practical or functional application.
Nominations and self-nominations are accepted from June 1-30, 2023.
"It is important to draw attention to the work of craftspeople in applied arts and design by honouring them with these kinds of awards for excellence in their field. It is a public endorsement and reminder of the value of handcrafting which celebrates individual achievement over mass manufacturing which dehumanizes it," said Robert Anderson, 2022 Award of Distinction recipient.
Recipients will be announced in October, with an exhibit of their selected works taking place November 15-22 at the Roundhouse Community Arts and Recreation Centre in downtown Vancouver.
About BC Achievement
BC Achievement is an independent foundation established in 2003 that celebrates the spirit of excellence in our province and serves to honour the best of British Columbia. By recognizing the accomplishments of our province's entrepreneurs, artists, community leaders, youth and volunteers, its award programs pay tribute to exceptional people, doing exceptional work, while carving a path forward for others to follow.
Miss604 is a proud sponsor of BC Achievement Foundation programs in 2023