Eastside Arts Society presents its 3rd CREATE! Arts Festival in Strathcona Park on Saturday, July 22 and at various Eastside Arts District studios on Sunday, July 23, 2023.
A community initiative designed to welcome guests to explore, learn, and create art together with local artists, CREATE! Arts Festival features a wide variety of accessible visual and performing arts workshops for adults and youth, including watercolour painting, needle felting, indigo dying, pottery, glass fusing, photography, ukulele, Salish singing, storytelling, and much more.
CREATE Arts Festival
Workshops are $35 + GST for youth/adults, with the exception of Amberlie Perkin's workshop for children/youth at $20 + GST.
Children under the age of 12 must be supervised by an adult.
The general public can access festival activities at Strathcona Park – including the CREATE! Art Zone, Festival Art Shop, beer garden, and food trucks for a $5 general admission fee (children under age 12 are free).
On Saturday, July 22, the festival will offer a series of outdoor art-making workshops taught by more than 15 artists who live and/or work in the Eastside Arts District, many of whom will be participating in CREATE! Arts Festival for the first time.
Adult and youth workshops will be hosted by Taaye Wong, Tanna Po, Suzan Marczak, Nima Nasiri, Naomi Yamamoto, Niki Holmes, Ross den Otter, Daphne Roubini, Russell Wallace, Naomi Steinberg, Nicole Caspillo, Nathaniel Marchand, Eri Ishii, and Chantal Cardinal (FELT à la main with LOVE). A children and youth workshop will be hosted by Amberlie Perkin and an all-abilities workshop by Alternative Creations Studio.
Saturday festivities at Strathcona Park will also include a general admission CREATE! Art Zone. Art demonstrations include painting, pottery, and glass beading from Francis Tiffany, Julia Chirka (summer skool), and members of Terminal City Glass Co-op.
Public participation art projects include a life-size colouring mural with Serena Chu of Chu Chu, squeegee art with Joanne Probyn, and the building and performing of two giant crow puppets – in honour of Eastside Arts Society's unofficial mascot – with Jacquie Rolston. Opus Art Supplies will have a hands-on block carving and printing activation, as part of the CREATE! Art Zone. Carve and pull a mini-block print, and contribute to a collaborative printmaking collage.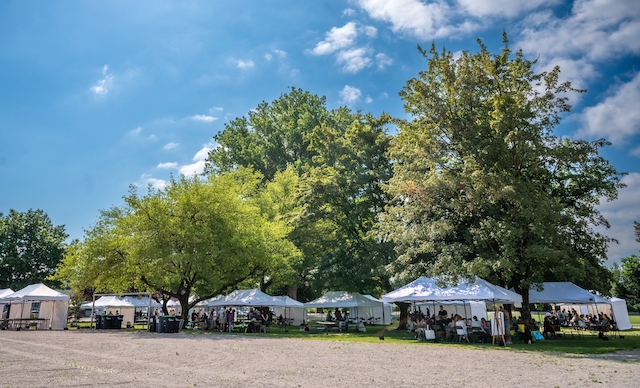 A selection of local handmade artworks and goods, curated by OH Studio Project, will be available at the Festival Art Shop. On site, visitors can also enjoy the festival's fully licensed beer garden serving beer, cider, and wine, from Strange Fellows Brewing, as well as a delicious assortment of food from a collection of food trucks, including Earnest Ice Cream, Wak Wak Burger, Mahshiko, and Camion Café.
July 22 will see the return of the beloved crowd favourite event, the 8th Annual Art! Bike! Beer! Crawl Fundraiser and tour, which for the first time will end at the CREATE! Arts Festival grounds where attendees will enjoy a final tasting pint, food, raffle, and the CREATE! Art Zone.
Festival activities will move indoors on Sunday, July 23, connecting participants with art production spaces in neighbouring Eastside art studios, with additional art workshops hosted by members of the Terminal City Glass Co-op, Richard Tetrault, Sonya Iwasiuk, Grace Lee (eikcam ceramics), and Naomi Yamamoto. View a full schedule online here.
Enter to Win
I have a prize package valued at over $175 to give away! It includes tickets to the Composing with Cameras workshop (at 10:00am on July 22nd at Strathcona Park) so you can amp up your photo-taking. The winner will also receive a $100 Opus gift card and a CREATE cap. Here's how you can enter to win:
CREATE Arts Festival Giveaway
Follow the festival on Facebook for news and updates.
Browse more Vancouver Festivals this season »