Richmond Art Gallery (RAG) presents MOTHERLIKE/silvery-blue, a new exhibition from Ladner-based artist Amy-Claire Huestis. Huestis's practice is rooted in the nature and community of the ancestral and present-day lands of the Coast Salish Peoples including the Hul'qumi'num Mustimuhw (Hul'qumi'num Treaty Group of Seven Coast Salish Nations), Tsawwassen, and Musqueam.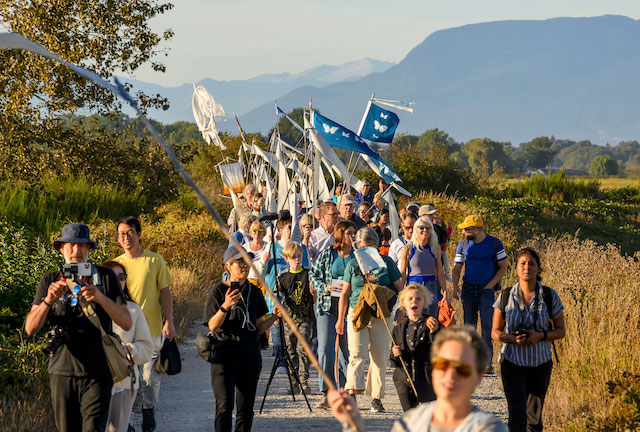 Amy-Claire Huestis Exhibition at the Richmond Art Gallery
When: On display from June 29 – August 20, 2023
Where: Richmond Art Gallery 700 Minoru Gate #180, Richmond
The exhibition aims to raise awareness about the delicate ecology of the stɑl'əw̓ (Fraser River) estuary, which is the most important estuary in Western Canada. It also highlights the loss of biodiversity caused by human behavior and commercial expansion.
This exhibition is particularly timely following the federal government's approval of the Roberts Bank Terminal 2 in Delta. Scientists predict that the port expansion will irreversibly harm the populations of Western Sandpipers, Southern Resident killer whales, and Chinook salmon.
"Amy-Claire Huestis's work is in response to her daily walks along the waterway called Canoe Pass, listening to the chorus of local and migratory birds," says Shaun Dacey, director of RAG and the exhibition's curator. "This exhibition encourages visitors to become more than passive observers. They are asked to not only engage physically and emotionally with the pieces in the installation, but to explore the show's themes beyond the Gallery's walls with activities throughout Richmond."
MOTHLIKE/silvery-blue portrays the poetic narrative of Silvery Blue, a fictional character embodying the land. From June 13 to 29, Huestis and her collaborators will execute an experimental score. This score involves walks on the dike trail, a participatory public performance at Garry Point Park on the summer solstice, and a final dance performance in the Gallery. The exhibition will showcase artworks, recordings, and costumes from a 2022 performance at Brunswick Point (Hwlhits'um) and the Richmond performances. These artworks will be re-animated through dance, sound performance, and community participation. The public is encouraged to participate and witness Silvery Blue's transformation cycle from woman to butterfly to land.
The exhibition showcases works using ecologically friendly materials such as recycled packing materials, foam, fabrics, natural pigments, and eco-certified cotton. Performances are a collaborative effort involving various partners, including conservationists from Birds Canada and Environment and Climate Change Canada. Also anthropologists from UBC and Douglas College, Indigenous knowledge holders, a choir from the BC Choral Federation, and Huestis's fellow artists.
About the Artist
Amy-Claire Huestis's work responds to biodiversity loss through collaborative and personal works. She completed residencies in Scotland, Sechelt Inlet, and the UCLA Art/Science Center. Huestis has performed in NYC, Los Angeles, and the Glasgow International Art Festival. She teaches at Kwantlen Polytechnic University and was the artist-in-residence at Richmond Art Gallery in 2021. Huestis created an art/science program at Henry Anderson Elementary School and co-curated a guided walk project at Hwlhits'um.
Follow Amy-Claire Huestis on Instagram and the Richmond Art Gallery on Facebook for updates.