Zee Zee Theatre presents the world premiere of the fully-staged, female-led comedy, Unexpecting from May 5 to 21, 2023. Written by emerging Vancouver playwright Bronwyn Carradine, and directed by Zee Zee Theatre's Artistic and Executive Director Cameron Mackenzie, the heartfelt work explores the challenges and triumphs of modern-day female relationships, as queer partners navigate careers, finances, and the desire to build a family with love, ambition, and compassion.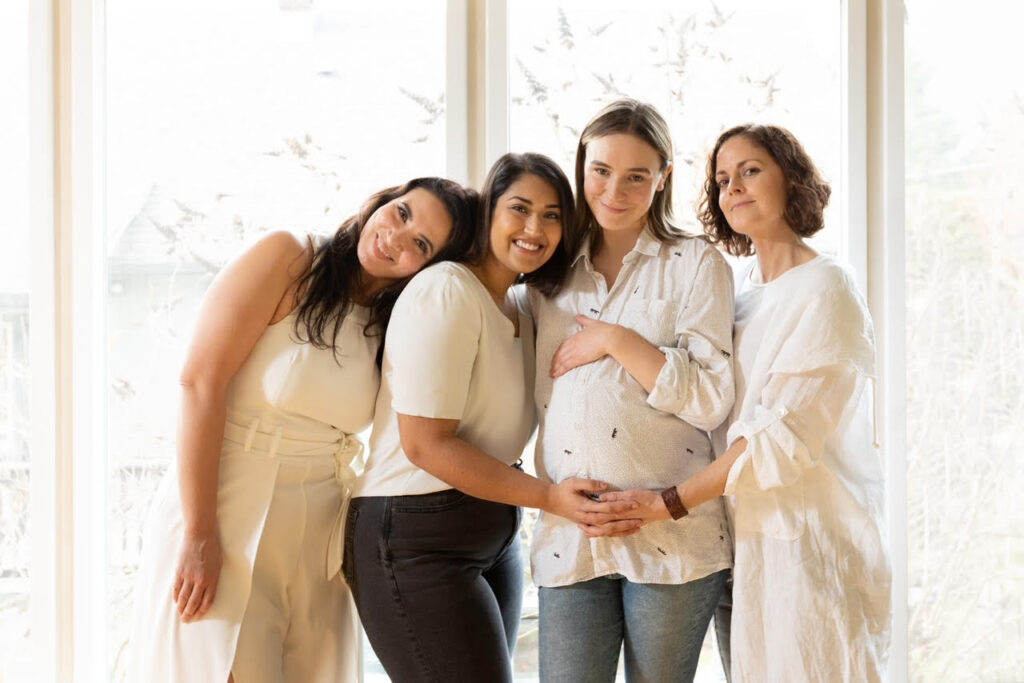 Unexpecting Premiere at Zee Zee Theatre
When: May 5 to 21, 2023 at 8:00pm Wednesday through Saturday and 2:00pm Saturday and Sunday (except for May 6)
Where: Studio 16 (1551 West 17th Ave, Vancouver)
Admission: Tickets are available for purchase online; Zee Zee Theatre is also offering an accessible pricing option. Each performance of Unexpecting will have 15 Reduced Barrier Tickets available at $15 each (excluding the preview performance on May 5)
Set in East Vancouver, married couple Annie and Josephine have been trying to start a family for the past five years. Annie, a struggling writer with one, decade-old bestseller to her name, and Jo, a painter who longs for motherhood, start to second-guess themselves and their relationship as their patience and finances reach rock-bottom. Complicated by the presence of Annie's brash, lifelong best friend, Pam, the couple are tested when presented with the sudden opportunity to adopt a baby.
"While Unexpecting is a joyful and insightful celebration of queer love and the intricacies of relationships, this play is truly for anyone who has struggled with their decision to become parents," says Mackenzie, Unexpecting director and Zee Zee Theatre Artistic and Executive Director. "Written by one of Vancouver's most compelling new playwrights, and full of quick-witted humour and enormous heart, Unexpecting offers Vancouver audiences a fresh perspective on love, loss, commitment, and the unpredictable journey towards modern motherhood."
Initially developed as part of the Arts Club Theatre Company's "Listen to This Series," and first presented as an audio play in February 2021, Unexpecting was praised for its "humour, warmth, and fast-moving dialogue" by Stir Vancouver. Zee Zee Theatre's production of Unexpecting represents the first time this play will be performed in front of a live audience.
Inspired by Carradine's adolescent affection for romantic comedies, Unexpecting is a love letter to female relationships in our modern world, with relatable characters, a familiar setting, and an uplifting message about the courage and vulnerability it takes to hold on to your loved ones.
Win Tickets
I have a pair of tickets to give away to the Opening Night performance on May 6th. Here's how you can enter to win:
Win Tickets to Zee Zee Theatre's Unexpecting
Unexpecting stars Elizabeth Barrett, Jessica Heafey, Melissa Oei and Rahat Saini. Set design is by Lachlan Johnston, costume design by Carmen Alatorre, lighting design by Sophie Tang, sound design by Shawn Sorensen, and props design by Carol MacDonald.
For more information and to stay up to date with Zee Zee Theatre, visit their website and follow Zee Zee Theatre on Instagram and Facebook.