The 22nd annual Talking Stick Festival 2023: Summer Reverb celebrates and honours National Indigenous History Month. The event series unites Indigenous art and culture with people from all walks of life and offers a unique opportunity to reflect and reconnect.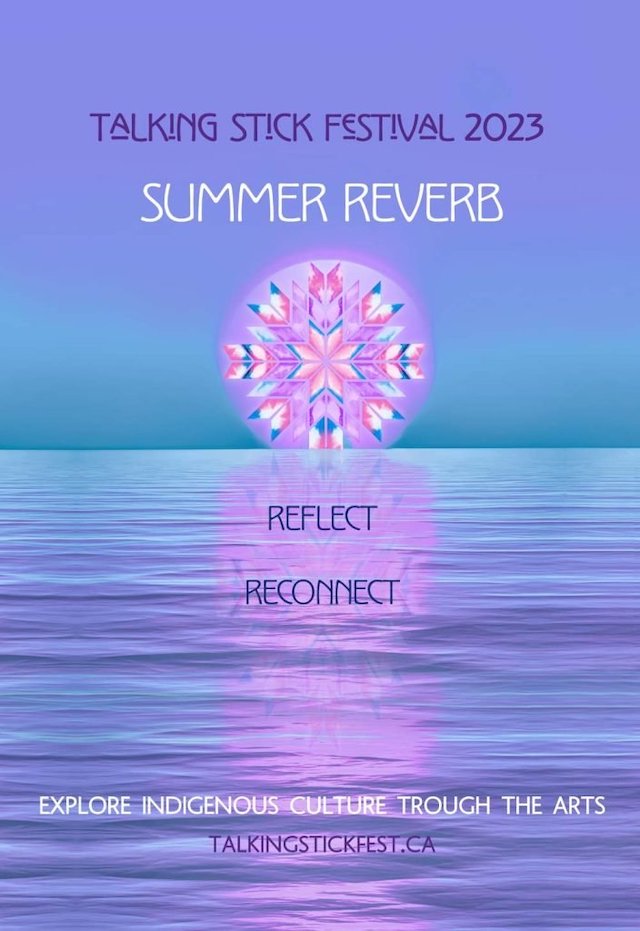 The Festival's theme, "Summer Reverb" brings together the idea of amplified sound and amplified voices in musical performances, similar to the star and water ripples reverberating outwards. The Talking Stick Festival celebrates diversity and inclusivity, welcoming Two-Spirit and Indigiqueer Artists, and promises vibrant entertainment.
Talking Stick Festival 2023
Headlining this year's festival, is singer-songwriter and musician Logan Staats. Staats won the Indigenous Music Award for Best Radio Single "The Lucky Ones." Also headlining, is DJ KOOKUM, an open format DJ and multi-media maker from the Alexis Nakota Sioux Nation and Cold Lake First Nations. Indigenous singer-songwriter, activist, and storyteller Pura Fé will also perform at multiple events throughout the month, intertwining her talents with cultural traditions.
The wide range of events include: a documentary screening, a theatre performance, a book launch (accompanied by a conversation with an award-winning author and local journalist), a Burlesque show, the Summer Reverb Gala, Dj Spins, and an immersive 4D audio performance.
June 21 marks National Indigenous Peoples Day, and on this day, the Talking Stick Festival features a diverse mix of ceremony, storytelling, dance and music, paired with a fashion show curated by a local designer. Indigenous Day Eve, on June 20, is also celebrated with an unforgettable event, spotlighting hip-hop and its connection to Indigenous traditions.
The festival concludes with a series of roundtables, welcoming an open discussion on various topics, including the evolving Canadian art landscape, which has been impacted by social justice movements, digital shifts, and new funding models.
"As a Māori Pacific Islander producer from Aotearoa, I'm proud to be part of this year's Talking Stick Festival. This event truly enhances the visibility of Indigenous arts, culture, and narratives. As we navigate beyond COVID-19, we stand on the precipice of a new era. Through the continued sharing and uplifting of our stories, we move towards an unequivocal truth – the future is Indigenous," says Nathan Mudge from Full Circle.
The month-long celebration includes a mix of exclusive in-house produced events as well as co-productions with arts partners such as: The Cultch, Punctuate! Theatre, Massy Books, Massy Arts, Vancouver Public Library, Queer Arts Festival, Coastal Jazz, VIFF, Primary Colours/Couleurs primaires, and Delinquent Theatre.
Ticket prices vary, with some free events and others starting at $15.
Full Festival Lineup
Opening Reception following 7:30pm showing of The First Métis Man of Odesa
Thursday, June 1, 9:00pm to 11:00pm
Cultch Historic Theatre
Free and all ages
The First Métis Man of Odesa
May 25-June 4, 7:30pm
Cultch Historic Theatre
Tickets
Michelle Good: Truth Telling About Indigenous Life in Canada
Thursday, June 8, 7:00pm to 8:30pm
Vancouver Public Library, Alice MacKay Room, lower level
RSVP through VPL
This event will feature a performance by singer songwriter, Zofia Rose, organized by Talking Stick Festival along with Books for sale and a book signing by the author. This event is presented in partnership with Massy Books, Massy Arts, and the Vancouver Public Library.
Talking Stick Festival Summer Reverb Gala
Friday, June 9 doors open at 7:30pm
SFU Woodwards, Fei and Milton Wong Experimental Theatre
Ticketed event, all ages
QAF and Talking Stick Festival present a trilogy of events centered on Two-Spirit and Indigiqueer art:
1. Love After the End: Joshua Whitehead & Friends
Sunday, June 18 at 3:00pm
Roundhouse Performance Centre
Tickets
2. Virago Nation Burlesque
Sunday, June 18 7:00pm
Roundhouse Performance Centre
Tickets
3. Cinq-à-Sept Reception
Sunday, June 18, 5:00pm to 7:00pm
Roundhouse Exhibition Hall
Free
DJ KOOKUM's Indigenous Day Eve
Tuesday, June 20, 9:00pm to midnight, doors 8:00pm
Performance Works
Tickets $15 online and at the door 19+ event
Summer Solstice Celebration with Logan Staats
Wednesday, June 21, 8:00pm to 11:00pm, doors 7:00pm
Performance Works
Tickets $20 in advance, $25 at the door
Summer Sisters Sing: Women's Music Circle
Friday, June 23 2:00pm to 5:00pm
SFU Woodward's, World Art Room
FREE Tickets Here
RUMBLE: The Indians Who Rocked the World
+ A Conversation with Pura Fé
Tuesday, June 27 6:30pm
VIFF, 1181 Seymour Street; Vancouver
Tickets can be purchased through VIFF
Exploring the profound influence of Native American music and musicians on rock and pop, this assertive and engaging doc (winner of the Audience Award and Best Canadian Film awards at Hot Docs) sets the record straight, with reference to Link Wray, Jimi Hendrix, Buffy Saint Marie, Robbie Robertson, and more. Following the screening, join a conversation with Indigenous singer-songwriter, activist, and storyteller Pura Fé, moderated by Doreen Manuel, a celebratory reception with a performance by M'Girl singers.
RE-FRAME : RE-NAME : RE-MAKE
Three In-person Roundtables
June 27- 29 11:00am to 1:00pm
Lunch provided at 1:00pm
SFU Woodwards, World Art Centre
This event is free, RSVP required
The Seventh Fire
June 27-July 2
Lobe Studios, 713 E Hastings St
Ticketed incremental options for pay what you can: $20, $35, $50
Follow Full Circle Performance on Facebook for the latest news.
Read about more festivals this summer