Returning for its second year, Strathcona Blocks Party is a family-friendly event treating the neighbourhood with a beer garden, musical performances, food trucks and outdoor games.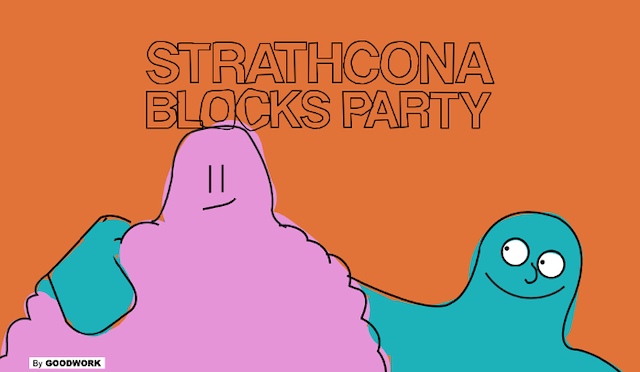 Strathcona Blocks Party
When: June 17, 2023 from 12:00pm – 5:00pm
Where: From 600 to 900 block of East Hastings
Admission: FREE
The Strathcona Blocks Party will feature a live music both at 840 East Hastings with performances lasting the whole party. Sit back and enjoy musical performances by Marlin Ramazzini Band, Francis Henson, Vancouver Fire Rescue Services Band and Scarlet Fever, a local youth band that operates out of Ray Cam Community Centre.
Families can enjoy giant Jenga and tic-tac-toe, a customizable wall hosted by Strathcona letters and chalk, as well as a visit with Vancouver mascot Fin the Orca. The space will be complete with food trucks that serve delicious bites, and free tote bag pressing created on-site by Ink Pad will be available while supplies last.
At 895 East Hastings, a lively outdoor beer garden at Strathcona Beer Company will keep participants refreshed until 7:00pm. Visitors can pop into neighbourhood restaurants who will host tours, maker activities, an open studio and more.
While exploring the blocks, visitors will find art exhibitions from four East Vancouver art galleries, giveaways, and discounts from participating businesses. At 848 East Hastings, for those looking for more local goods and last-minute Father's Day gifts, there will be a vibrant market experience.
View more free/low-cost activities in Vancouver