Did you know? BC spot prawns are the largest commercial species of shrimp found on the west coast of Canada! You can celebrate this delicacy on May 28th at the annual Spot Prawn Festival and learn more about the spot prawn, purchase some for yourself, and master recipes from the festivals own chefs.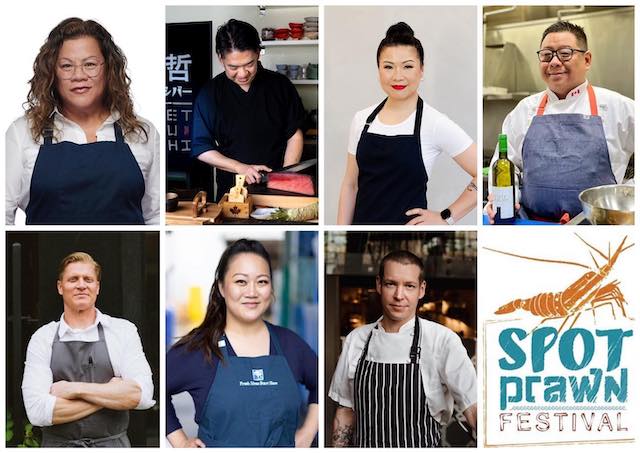 Annual Spot Prawn Festival Vancouver 2023
When: May 28, 2023 from 11:00am to 3:00pm
Where: Fisherman's Wharf – Granville Island (1505 W 1st Ave, Vancouver)
Admission: Free access to docks and cooking demos (family-friendly).

$10 (+ tax/fee) per bowl of Prawn Bisque. Tickets for the Spot Prawn Bisque can be purchased in advance or at the dock.
$79 (+ tax/fee) to access to Spot Prawn Brunch (19+) an outdoor stand-up grazing style event with tasting menu of 6 delicious BC Spot Prawn dishes, wine, beer and non-alcoholic cocktails along with a sweet treat. Tickets available for purchase online.
Spot Prawn Chef Demo stage will run 11:00am to 2:00pm on Fisherman's Wharf. Learn Spot Prawn cooking techniques from talented chefs:
Dez Lo, Top Chef Season X Runner Up
Lee Cooper, Chef owner L'Abattoir Restaurant
Nicole Gomes, Top Chef Allstar winner, Bravo Top Chef World All-Stars
Lucais Syme, Chef owner Autostrada Hospitality
Jenice Yu, Founder & CEO, F.I.S.H.
Satoshi Mikase, Sushi Chef & Owner, Tetsu Sushi
The Spot Prawn Festival began in 2006 to foster a domestic market for this seasonal and sustainable seafood. It also continues to be Chefs' Table Society's annual fundraiser that allows the society to support scholarships for culinary students, and to provide education, mentorship and sustainability initiatives for the culinary industry. Funds will also support the society's long-term legacy project, the CTS, that will become a home for the culinary industry and food lovers.
Related: May Events in Vancouver 2023 Calendar of Things to Do