Upintheair Theatre's rEvolver Festival opens May 24th, presenting inventive and progressive Canadian live theatre, created by emerging and established artists.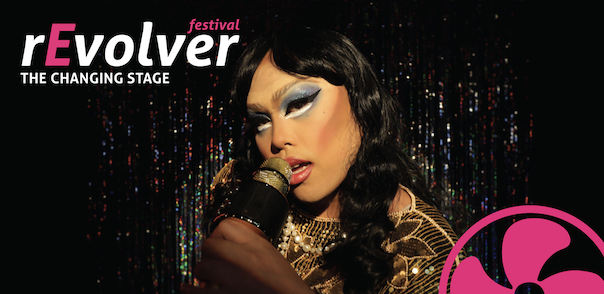 rEvolver Festival 2023
When: Wednesday May 24 to Sunday June 4, 2023
Where: The Cultch (1895 Venables Street, Vancouver)
Admission: Tickets available online; Tickets are "pay what you want" from $15 – $30

Passes: 3 Show Pass $51; 6 Show Pass $96; All-Access Pass $120
Programmed by UpintheAir Theatre's Resident Curators Sarah Roa and Lili Robinson, Artistic Director David Mott, and Founding Artistic Producer Emeritus Daniel Martin.
With 10 mainstage productions, the 12-day festival showcases new works from artists who share a common aim to reinvent conventional theatre modes.
The line-up includes contemporary dance, drag, sketch comedy, and performance art. The festival's special presentations offer more distinct multidisciplinary shows with an off-site micro-performance, a film screening and gathering, a satirical professional development webinar, an interactive website experience, a climate and housing workshop, and an online karaoke night.
Indigenous Emerging:
Resist Revive Replenish, Savage Society
A Buzz in Your Hub: Entrepreneurial Strategies for the Late Capitalist Death Spiral, Nakuset Gould, Chris Bose and Heather Mclean
Beat, Yeet and Eat!, Raven John AKA TwoSpiritTrickster
Digital Presentations:
The Investigator, Wren Brian
Birthing A Baby Revolutionary, Images of Whole
Big Queer Filipino Karaoke Night!, Davey Samuel Calderon
Mainstage Shows:
First Métis Man of Odesa, Punctuate! Theatre, Matthew MacKenzie and Mariya Khomutova
A Funny Thing Happened On My Way To Canada, Grace Chin
Birthing A Baby Revolutionary, Images of Whole
June Bug, Ragamuffin Productions Ashley Chodat
Lip Service: Breaking Down Barriers, Pulsive Party Natalie Tin Yin Gan and Ashley Whitehead
QEIII – Black Betty – a lost Shakespeare play, David Geary
This Feels Like The End, Bonnie Duff
Vascular Necrosis, Bramble Theatre Collective, Jordyn Wood
Would Virginia Woolf Contemplate Suicide if She Were Filipino?, Voices of Asia International, Revan Badingham III
A MENOS QUE QUIERAS BAILAR (Unless You Want To Dance), Kelly McInnes, Areli Moran, Rianne Švelnis
Catfish, Alley Theatre
Discounted Hotpot Centre, Anthony Kit Chun Lee
Duality, Spicy Lemon Company Yuki Ueda & Elliot Wagner
PRUDE, Probably Theatre Collective Lou Campbell
Rice-silience, House of Rice Van Dang, Kendell Yan & Romi Kim
YOU AND I ≠ WE, Romi Kim and Kendell Yan or SKIM and Maiden China
For more information follow Upintheair Theatre on Facebook or visit their website.
Related: Theatre