Emily Carr University of Art + Design will be holding its highly anticipated annual 2023 exhibition featuring works from over 350 graduating students from Canada's top ranked school for art, media and design. Known as The Show, the exhibition celebrates its opening night on May 11th and will run through May 25th at ECU's campus on Great Northern Way. Admission is free.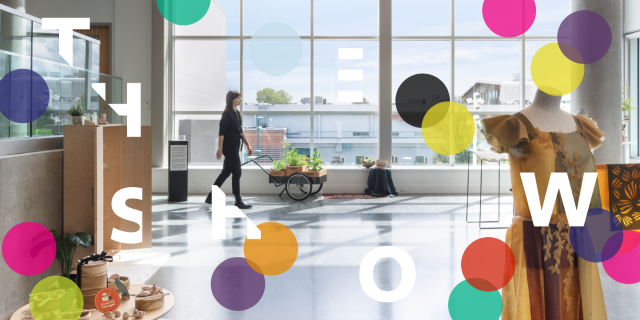 Emily Carr University Student Exhibition: The Show
When: May 11 to 25, 2023

Standard building hours: 7:30am (8:00am weekends) to 11:00pm weekends
Closed holiday Monday, May 22nd

Where: Emily Carr University 520 E 1st Ave, Vancouver
"The Show is a fantastic opportunity for art collectors, industry professionals and members of the public to discover the next generation of talent as graduates complete their education at ECU and step onto the world stage as artists, designers and innovators," says Trish Kelly, Vice President Academic and Provost of Emily Carr University. "Expect bold, inventive and stunning works that reflect the diversity and extraordinary talent of our graduates."
One of the graduating students whose work will be featured is Cheryl Wong. Her installation, titled Multisensory Design: HK Memories, features sights, sounds and smells evocative of her native Hong Kong – including a wall hanging made up of red-white-blue bags woven together to form a map of the region.
Another exhibitor is Khim Hipol whose collection of photographs and weavings explore the idea of labour and cleaning as well as Filipino representation in Canada. Hipol's family worked in the cleaning and service industry when they first immigrated to B.C. and his weaving is influenced by the basahan (cleaning rags) that his grandmother used to make and sell back in the Philippines.
Ranked as the top art and design school in Canada and the 24th in the world, ECU has a history of producing graduates who go on to become some of the most influential creative professionals working today, including Douglas Coupland, Stan Douglas, Sonny Assu, Neko Case, Brian Jungen and Annie Liu, among others.
In addition to the artwork on display, ECU's Faculty of Design and Dynamic Media will be screening films created by students in the 2D + Experimental Animation, 3D Computer Animation and Film + Screen Arts programs.
A full schedule of events can be found on the Emily Carr University website. For those who cannot attend The Show in person, an online gallery will be available.