The 2023 Concord Pacific Dragon Boat Festival is gearing up to welcome 100,000 visitors and racers to celebrate its 35th anniversary on June 24 and 25 at Concord Pacific Place, Creekside Park, and False Creek. In addition to the dragon boat race, a lineup of free events are scheduled for the entire weekend.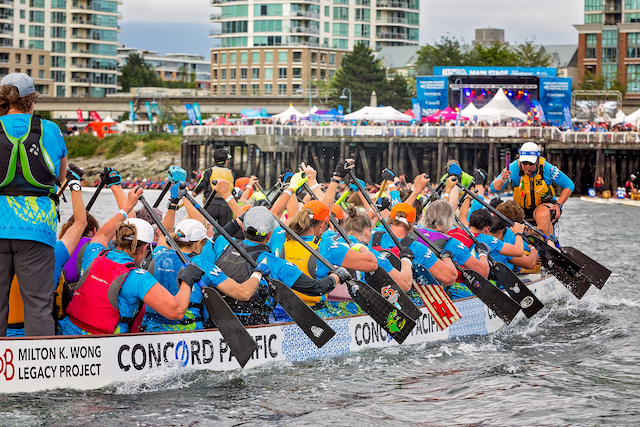 Dragon Boat Festival 2023
When: June 24 and 25, 2023

Races begin at 9:00am on the 24 and end at 5:30pm on the 24 and 25

Where: Concord Pacific Place and Creekside Park around False Creek in Vancouver
Music Lineup
The TD Main Stage is one of the City's biggest free, outdoor, and independent stages, and features a 100% local lineup that platforms artists and performers from POC, Indigenous, and 2SLGBTQAI+ communities. The lineup includes:
June 24, 2023: Dear Rouge, SABAI, Kimmortal, Coastal Wolf Pack, Mikey Jose, Ludic, Hayley Wallis and the Bright Futures, and Eagle Song Dancers
June 25, 2023: Ricecake: Summer Solstice and Festival Wrapup Party, Missy D, Fionn, Van Lefan, Vancouver Chinese Music Ensemble (additional performers to be announced for June 25)
Races, Food, Shopping
Races take place on False Creek, with the course starting at Cambie Street Bridge. Nearly all the races are 500 meters, with the exception of the Concord Pacific Champion Race Series (100M Knockouts), and Guts and Glory Grand Finals (2,000M circuit races). 18 international standard dragon boats will be used for racing during the Festival, 9 of which are designed by local artists.
Cultural programs will be held at the festival, featuring a Chinatown Pavilion and an Indigenous Pavilion.
More than 50 vendors for food and beverages will be available on site, and soak in the sun as the festival hosts the city's biggest outdoor patio every year. You can also shop from local vendors throughout the festival.
About the Canadian International Dragon Boat Festival Society
The Canadian International Dragon Boat Festival Society is the non-profit organizer of North America's flagship dragon boat festival – the Concord Pacific Dragon Boat Festival, and runs Dragon Zone Paddling Club – Canada's largest paddling club.
The Society also produces a series of races, cultural programming, and community initiatives centred around the traditional Chinese sport of dragon boat. Through its All Access and youth programs, supported by the Milton K. Wong Legacy Project, the Society makes paddling experiences accessible regardless of any barriers to participation.
For more information, visit the Concord Pacific Dragon Boat Festival website.
View more free/low-cost activities in Vancouver