On June 10th everyone is invited to enjoy hours of fun and music, while also learning how they can contribute to climate action, at the second annual Car Free Day in Surrey.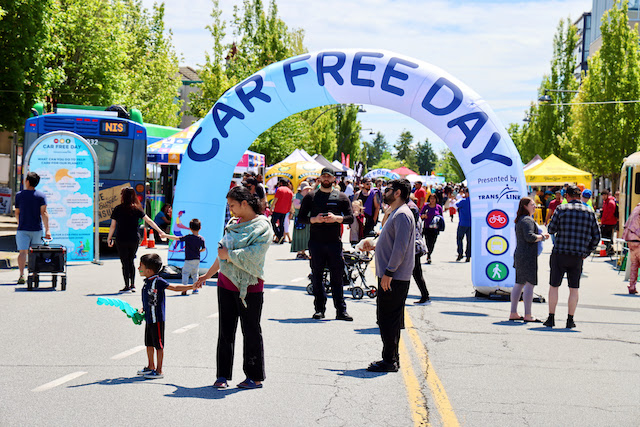 Car Free Day
When: June 10, 2023 from 12:00pm – 8:00pm
Where: 137 Street, between 72A Ave and 74 Ave in Newton
Admission: FREE
On 137 street between 72A and 74 Ave you'll find a variety of food trucks and vendors who will have something to satisfy any food craving.
Check out the musical performances by Luv Randhawa, MNGWA, Glisha and Haleluya Hailu. A DJ and Dance Zone will featured the "Higher Ground Dance Battle".
A Family Fun Zone will be set up where kids can enjoy face painting, balloon twisting, mini golf, and a bouncy castle. A performance from comedian Matt Henry showcasing his exceptional juggling skills will also take place.
"We want to encourage people to get out of their cars this summer and experience the region using transit. Car Free Day is a great opportunity for everyone to visit and experience the best of their neighbourhoods using transit, walking, and cycling," says TransLink CEO Kevin Quinn.
Guests are invited to check out the TransLink Zone and make a pledge for a Car Free Summer to learn how personal actions play a part in Climate Action. Play the Transportation Game, for a chance to win a TransLink prize.
Plan your route using the TransLink trip planner. A free bike valet will be available. Parking is limited and attendees are encouraged to use transit, bike, walk, or use a car-share service rather than drive.
Visit the Car Free Day website for more information.
View more free/low-cost activities in Vancouver