On June 3rd, summer will kick off on Hastings Street with Hats Off Day in Burnaby Heights. This free community celebration, that draws tens of thousands of guests, has an "out of this world" Outer Space theme this year, offering galactic excitement and adventure for all ages.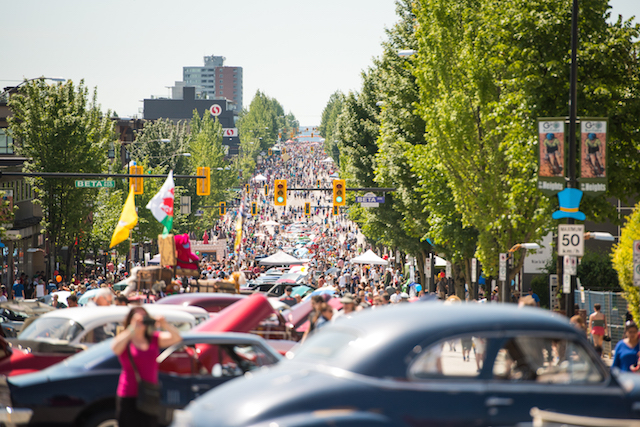 Hats Off Day 2023
When: Saturday June 3, 2023 from 9:30am to 4:00pm
Where: Hastings Street, all the way from Boundary Road to Gamma Ave
Admission: FREE
Merchants celebrate Hats Off Day by tipping their hats in appreciation to their community. 12 blocks of Hastings Street will be closed to car traffic for the annual parade and festival.
The day starts with a Family Fun Dash at 9:30am and proceeds to the parade at 10:00am. As always, the parade features local community groups, marching bands of all ages, and Burnaby Heights businesses.
After the parade ends, the street party begins. You won't be disappointed with the variety of attractions: mouth-watering food, an abundance of live music, space-inspired shows for this year's theme, and much more.
About Hats Off Day in Burnaby Heights
Hats Off Day has been a grassroots festival celebrating the best of the Burnaby Heights community since the early 1980s. Today, the event has gradually grown from a small sidewalk event to a day-long celebration that begins with a Family Fun Dash, followed by a mainstreet-style Parade and Street Festival. The best part? A two-kilometre street party with live and roving entertainment, activities, (literally) street food from around the world, a Show & Shine, Merchants' sales and giveaways, Burnaby Not-for-Profits' displays, and more. Hats Off Day attracts more than 50,000 people annually.
To stay up to date with Hats Off Day, visit the website and follow Burnaby Heights on Facebook and Instagram.