The Vancouver Street Soccer League ("VSSL") is currently fundraising for an exciting opportunity to take part in a tournament in Alert Bay.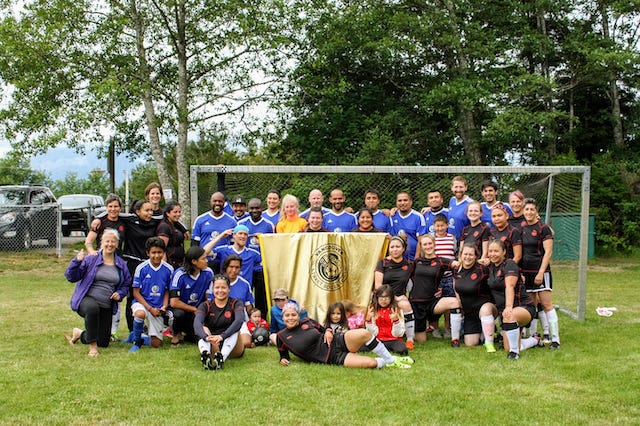 June Sports is an annual soccer tournament that is hosted and organized by the 'Namgis First Nation. Around thirty players and volunteers from the VSSL will be heading to Alert Bay to participate this year. The village parade and traditional longhouse ceremonies that kick off the tournament resonate deeply with many of the players, particularly those from the Downtown Eastside neighbourhood.
Vancouver Street Soccer League Tournament Fundraiser
Your donations will help pay for food, transportation, and camping.
Established in 2008, the Vancouver Street Soccer League is a volunteer-run, non-profit organization which reaches out to individuals who have been or currently experiencing the spectrum of houselessness, as well as individuals that are marginalized within their communities, and/or struggle with substance use or mental health conditions.
They address the issue of homelessness, marginalization, and addiction through inclusivity and soccer – believing they can enhance all of our lives through the principles of Fair Play, Community Building, Supportive Partnerships, and Health and Safety.
From VSSL: "The long trip up Vancouver Island the natural beauty of Alert Bay, and scenic boat-rides are particularly refreshing and rejuvenating for the players. The camaraderie forged on the soccer field or at the camping site, while dining over communal meals after a hard-fought match, makes this trip a highlight of the year. One of the most powerful things about the June Sports tournament is how it allows Indigenous players to reconnect with the community. This is the first year the VSSL will be participating at June Sports since COVID. It's an important event for the players and it's been deeply missed!"
For more information, follow the Vancouver Street Soccer League on Facebook.
Look for my in-depth VSSL feature in an upcoming issue of Megaphone Magazine!
Related: Soccer