A lineup sneak peek and early bird tickets have been announced as the 46th Annual Vancouver Folk Music Festival has regrouped, found a renewed energy and enthusiasm, and is looking forward to bringing the music back to Jericho Beach Park Summer 2023!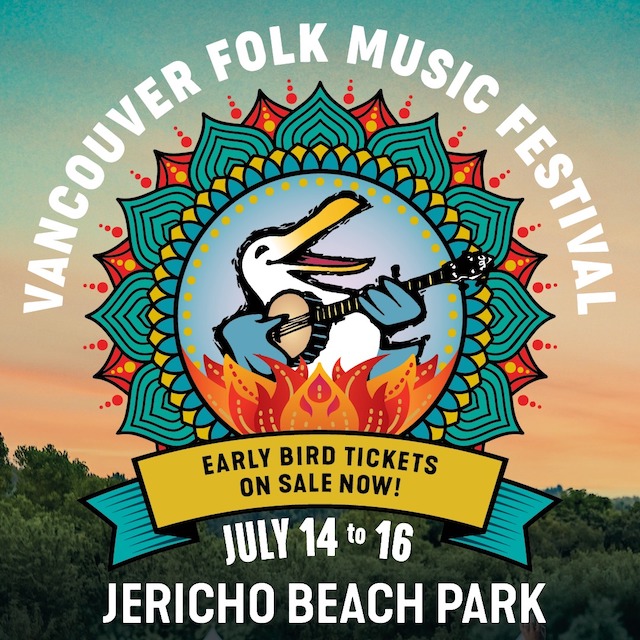 Vancouver Folk Music Festival 2023
The festival is excited to announce four of the names in the 2023 artist lineup – offering a sample of the brilliant artistry audiences can expect to discover on VFMF stages this summer:
From Ennis, County Clare, Ireland, singer/songwriter Susan O'Neill has been described as "audacity personified, a free spirit, a real performer" with a timeless voice that's "equal parts balm and blowtorch." Celeigh Cardinal is a soul-folk songstress from the northern prairies, and a 2020 JUNO Indigenous Album of the Year winner. It's been said she's "quickly becoming one of the great Canadian voices". Cameroonian-born singer/songwriter Blick Bassy is a unique voice in African music. He sings in his native Bassa, but his musical travels include the blues, samba, bossa nova, folk, and far beyond. A Chicano band from East LA., the vibrant music of Las Cafeteras fuses spoken word, an urban attitude and folk music with traditional son jarocho. They sing of civil rights, the United Farm Workers, immigration – their music a tool for inspiring positive change.
The full 2023 Festival line-up will be announced in early May.
Early Bird Tickets are available online until June 5 and offer the lowest prices of the season as prices increases the next day. Weekend passes at adult, elder, student, and youth rates will all be on sale at their most affordable prices.
UPDATE: The full lineup is now available
| | |
| --- | --- |
| American Beauties: Songs of the Grateful Dead Re-Imagined | Jill Barber (BC) |
| Blick Bassy (Cameroon/France) | Tré Burt (TN) |
| Jim Byrnes (BC) | Las Cafeteras (CA) |
| Calexico (AZ) | Celeigh Cardinal (AB) |
| Joachim Cooder (CA) | Steve Dawson and The Hooded Mergansers (BC/TN) |
| Maya de Vitry (TN) | Krystle Dos Santos (BC) |
| Ferron (BC) | Derek Gripper (South Africa) |
| Joe Henry (ME) | The High Bar Gang (BC) |
| Rich Hope (BC) | Melón Jiménez & Lara Wong Flamenco-World Trio (Spain & BC) |
| Kalàscima featuring Andrea Ramolo (Italy & ON) | Kayhan Kalhor Trio (Iran/CA & QC)  |
| Amythyst Kiah (TN) | Albert Lee (UK/CA) |
| Don McGlashan with special guest, Anita Clark (New Zealand) | Ruth Moody (MB/TN) |
| Namgar (Buryatia) | Aoife O'Donovan (NY) |
| Susan O'Neill  (Ireland) | Samantha Parton (BC) |
| Jocelyn Pettit & Ellen Gira (Canada & US) | William Prince (MB) |
| Cláudio Rabeca Quartet with special guest, Serena Eades (Brazil & BC) | Rum Ragged (NL) |
| San Pedro Cinco (BC) | Ruby Singh and The Future Ancestors (BC) |
| The Sojourners (BC) | Tiny Habits (BC, MA) |
| True Loves (WA) | Twin Flames (ON) |
| Cedric Watson & Jourdan Thibodeaux (LA) | |
To stay up to date on the full lineup and ticket sales, follow VFMF on Instagram or visit their website.
Related: Music