A burst of spring colours return this month as the 17th annual Chilliwack Tulip Festival blooms, opening its fields on April 19, 2023. Founded in 2006, the event was the first of its kind locally and a pioneer in promoting agritourism. Admire and photograph a vibrant flower-scape curated over 20 acres with more than seven million bulbs with 30 tulip varieties, 16 types of daffodils and five types of hyacinths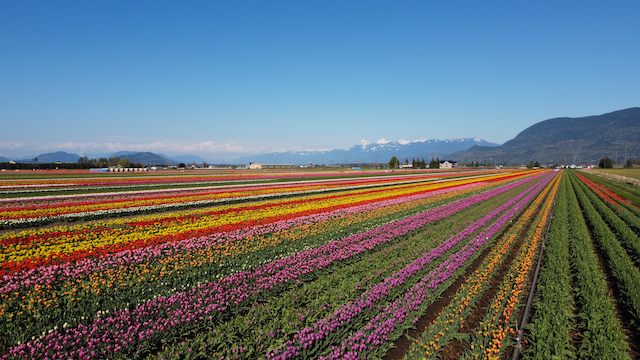 Chilliwack Tulip Festival 2023
When: Every day from April 19 – May 7, 2023
Where: 41310 Royalwood Dr, off Highway 1
Admission: Available online
Behind the festival's dazzle is the integrity of a year-round working farm. Onos Greenhouses leases land from a local farm, growing the tulips on the Chilliwack field that becomes the annual festival grounds. After the festival, Onos Greenhouses collects the bulbs and then uses them in their greenhouse operation, which currently supplies 85% of the cut tulips that are sold throughout Western Canada—a joyous annual sign to Canadians that spring has arrived.
This year, the flower fields are located within 75 meters of the entrance, making the experience easier than ever to access. With between seven and 15 acres of flowers in full bloom at any given time, selfie spots and photo opportunities abound. Seven sets of swings, outdoor lawn games, a 1950s Morris convertible and a 1965 Airstream trailer are among the charming props and settings to inspire memory-making moments.
The Farm Shop will be open daily, offering treats and refreshments to supplement the offerings from popular local food trucks. For home gardeners, fresh-cut and potted tulips, sunflower seeds and tulip-themed souvenirs are among The Farm Shop offerings. Follow the Chilliwack Tulip Festival on Facebook for the latest info and updates.
Related: Chilliwack Sunflower Festival