Enjoy summer movie nights at The Orpheum as the Vancouver Symphony Orchestra plays along with live screenings of blockbusters and fan favourite films.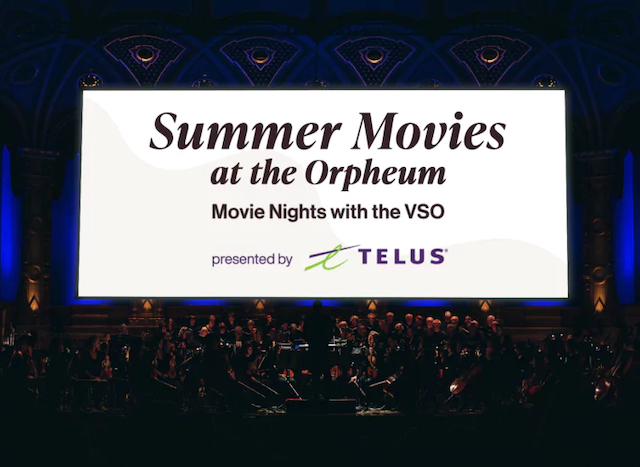 Summer Movie Nights at The Orpheum
When: July 2023
Where: The Orpheum (601 Smithe St, Vancouver)
Tickets: Save up to 10-40% when you bundle and purchase tickets to two or more Summer Movie Nights events
Star Wars: The Force Awakens in Concert – July 5 & 6, 2023
Thirty years after the defeat of the Empire, Luke Skywalker has vanished and a new threat has risen: The First Order, led by the mysterious Supreme Leader Snoke and his dark side enforcer, Kylo Ren. General Leia Organa's military force, the Resistance — and unlikely heroes brought together by fate — are the galaxy's only hope at thwarting a new reign of evil. From visionary director J.J. Abrams, the film features a new score composed by five-time Academy Award®-winning composer John Williams.
Bugs Bunny at the Symphony – July 13 & 14, 2023
Bugs Bunny at the Symphony™ celebrates the world's most beloved Looney Tunes and their legendary stars projected on the big screen — Bugs Bunny, Daffy Duck, Elmer Fudd, Tweety, Sylvester, Wile E. Coyote, and Road Runner — while their extraordinary original scores are played live by the VSO.
Ratatouille in Concert – July 18 & 19, 2023
Experience Disney and Pixar's Academy Award®-winning film Ratatouille™ on the big screen while the VSO performs composer Michael Giacchino's beloved score live. Audiences of all ages love this tale of a determined young rat with a cultivated palate who gets an unlikely chance to do what he dreams of most – cook in a French restaurant in Paris.
Jurassic Park in Concert – July 21 & 22, 2023
Featuring visually stunning imagery and groundbreaking special effects, the action-packed adventure of Jurassic Park™ pits man against prehistoric predators in the ultimate battle for survival. Experience it now, projected in HD with a full symphony orchestra performing John Williams' iconic score live to picture.
Follow the VSO on Facebook for more events and news.