Save the date! The 10th annual Dan's Legacy Chefs' Charity Dinner is heading to Fort Langley on November 2nd. Come and discover how your support is helping Dan's provide opportunities for at-risk youth in Langley, whether that's stabilizing their mental health, building connections to community and culture, or obtaining work skills leading to employment.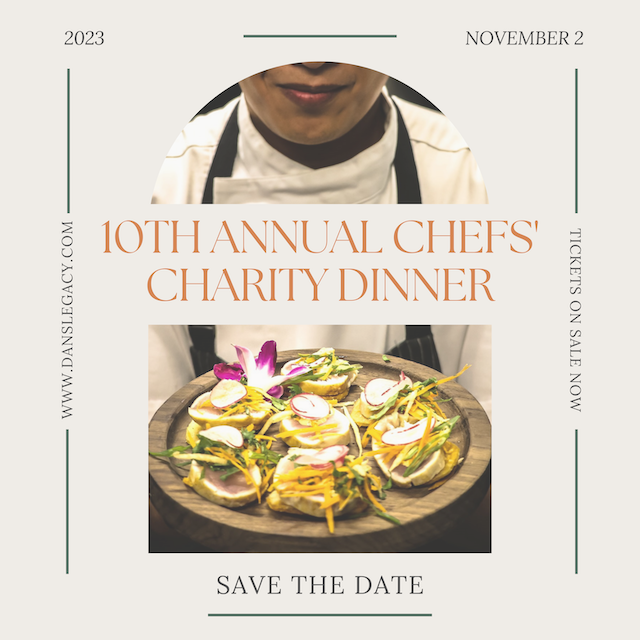 2023 Dan's Legacy Chefs' Charity Dinner
When: Thursday, November 2nd, 2023 from 6:00pm to 9:00pm
Where: Fort Langley Community Hall (9167 Glover Rd, Langley Township)
Tickets: $100 available online now!
Enjoy live entertainment, an extensive silent auction, and a gourmet dinner by our celebrated guest chefs, each of whom will prepare a unique dish created entirely from recovered (surplus) food.
This signature event celebrates Dan's Legacy's partnerships in the community while raising much-needed funds for their trauma-informed and no-barrier counselling and wrap-around programs for youth at risk. Enjoy an evening out with friends, family and colleagues and demonstrate your commitment to giving a hand up to marginalized young people in our community.
No other organization in Metro Vancouver does what Dan's Legacy does and they have an over 50% success rate in helping youth to stabilize, and begin working towards their education, employment and recovery goals. Last year they helped over 450 youth overcome their mental health and addiction challenges and lead productive and fulfilling lives.
Get your tickets today and we'll see you November 2nd in Fort Langley!
Miss604 is a proud sponsor of the Chef's Charity Dinner